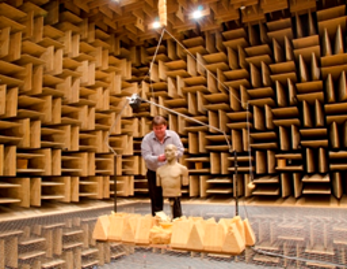 Acoustical measurements under free-field conditions; chamber is designed to provide a highly anechoic sound field and a very small ambient noise level (acoustical and mechanical):
Characterized frequency range: 40 Hz to 63 kHz
Energy absorption: greater than or equal to 99% for frequencies greater than 45 Hz
Inaudible ambient A-weighted sound pressure level less than -2 dB
Vibration isolation: 52 springs, 3 Hz resonance
Double shell construction, concrete walls 0.3 m thick
Special multi-element wedge design; all six room surfaces covered by sound-absorbing wedges
Large multi-purpose facility; free-field volume between wedge tips of 450 m3 (10.0 m x 6.7 m x 6.7 m).
Wire mesh floor and adjacent control room for equipment setups.
Available for research-oriented or basic-characterization measurements of various electroacoustic devices, such as microphones, loudspeakers, and hearing aids:
Sensitivity
Frequency response
Sound pressure level produced by sources
Total harmonic distortion
Directionality
Self-noise
References
W. Koidan and G.R. Hruska, Acoustical properties of the National Bureau of Standards anechoic chamber, J. Acoust. Soc. Am. 64(2), 508-516 (1978). 
W. Koidan, G.R. Hruska, and M.A. Pickett, Wedge design for National Bureau of Standards anechoic chamber, J. Acoust. Soc. Am. 52(4)(Part 1), 1071-1076 (1972).