Welcome to the NIST Privacy Framework Learning Center. We offer a variety of videos, guides, and use cases to help you get started with the Privacy Framework.  
Quick Start Guide
NIST has heard consistently that small and medium businesses would benefit from dedicated resources aimed at facilitating Privacy Framework implementation. To help meet this need, NIST developed this quick start guide to help any organization get a risk-based privacy program off the ground or improve an existing one. 
Quick Start Guide-English (PDF) Quick Start Guide-Portuguese (PDF) Quick Start Guide-Spanish (PDF)
Interested in a quick start guide for the Cybersecurity Framework? Check out Cybersecurity for Small Business: Understanding The NIST Cybersecurity Framework. To browse additional resources, visit NIST's Small Business Cybersecurity Corner.
Videos
Building Trust with the NIST Privacy Framework
4 MINUTES
Take a journey through Our Corp's animated world to learn how Privacy Framework adoption can build trust in products, services, and much more.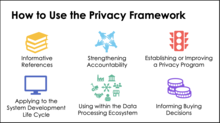 NIST Privacy Framework Highlights
20 MINUTES 
Explore the main components of the Privacy Framework and learn how some organizations are using it in practice.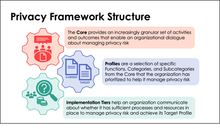 NIST Privacy Framework 101

2 HOURS
For those interested in a more comprehensive learning experience, this deep dive is loaded with information about every part of the Privacy Framework.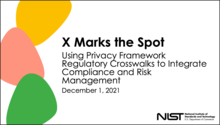 X Marks the Spot: Using NIST Privacy Framework Regulatory Crosswalks to Integrate Compliance and Risk Management

1 HOUR 15 MINUTES
Learn how your organization can use regulatory crosswalks to implement the NIST Privacy Framework and integrate compliance and risk management efforts.
Hypothetical Use Cases
NIST has developed these hypothetical use cases to improve understanding of how to develop Profiles to increase collaboration and dialogue across organizations and support risk-based decisions. If you'd like to share a real implementation success story, privacyframework [at] nist.gov (contact us).
Resource Repository
The Privacy Framework Resource Repository contains resources to support organizations' use of the Privacy Framework. Resources include crosswalks, common Profiles, guidelines, and tools. NIST encourages new contributions and feedback on these resources as part of the ongoing collaborative effort to improve implementation of the Privacy Framework.