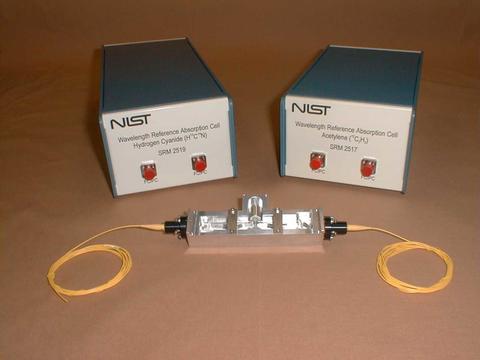 The Applied Physics Division provides several types of Wavelength Reference Cells. A typical cell is depicted in Figure 1 and a typical absorption spectrum is depicted in figure 2. The absorption spectrum is realized by illuminating a cell at its operational wavelength by a tunable fiber coupled laser source and measuring the spectra with appropriate spectrographic instrumentation, typically a fiber coupled wave-meter or optical spectrum analyzer.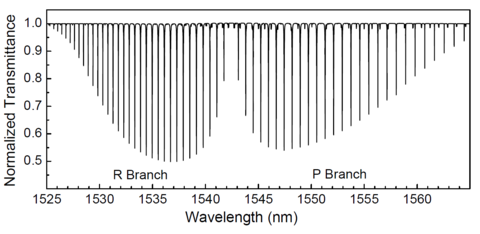 The primary documentation associated with an SRM is its certificate. This provides customers with sufficient information to know whether the SRM will meet their calibration and/or traceability needs, to understand its proper use along with storage and aging considerations, and to understand the basis for the statement of certified values and associated uncertainties. The documentation also provides a thorough technical basis for the SRM or provides references to where that information is available.
Select one of the SRMs described in the table below for more information including price, ordering information, an example certificate, and other supporting documentation. Please contact Bill Swann (bill.swann [at] nist.gov (bill[dot]swann[at]nist[dot]gov)) for additional information.
Table 1. Available Wavelength Reference Standards
Resources
For quotes, inquiries, and shipping information:
NIST Office of Reference Materials
100 Bureau Drive, Stop 2300
Gaithersburg, MD 20899-2300
Phone: 301-975-2200
Fax: 301-948-3730
E-mail: srminfo [at] nist.gov (srminfo[at]nist[dot]gov)
For technical information:
Bill Swann
Applied Physics Division
Phone: 303-497-7381
E-mail: william.swann [at] nist.gov (william[dot]swann[at]nist[dot]gov)
For information about other NIST calibration services:
Calibration Administrators
Physical Measurement Laboratory
E-mail: calibrations [at] nist.gov (calibrations[at]nist[dot]gov)