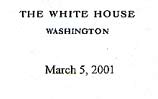 I am pleased to send warm greetings to the National Institute of Standards and Technology as you launch your centennial year celebration. This special gathering provides a great opportunity to celebrate your accomplishments and NIST's 100 years of contribution to the growth and development of the United States.
As part of the United States Department of Commerce, the National Institute of Standards and Technology remains the steward of the United States measurement system and is known for its achievements in physical measurements, standards developments, test methods, and basic scientific and technical research. The work of this small agency is remarkably broad and has touched the lives of countless Americans, including business officials, homeowners, firefighters, medical and health-care workers, scientists, engineers, and the military. NIST's scientific and technical expertise is embodied in technologies as diverse as factory robots, smoke detectors, integrated circuits, mammography equipment, satellites, body armor, and computer encryption software.
As NIST begins its second century, I am confident its work with industry, science, and government will continue to build an advanced science and technology infrastructure. In so doing, NIST will help to ensure future progress and prosperity for our great Nation.
Best wishes for a memorable celebration.
Notice of Online Archive: This page is no longer being updated and remains online for informational and historical purposes only. The information is accurate as of 2001. For questions about page contents, please

inquiries

[at]

nist.gov

(contact us)

.