1916: Radio Becomes an Aid to Navigation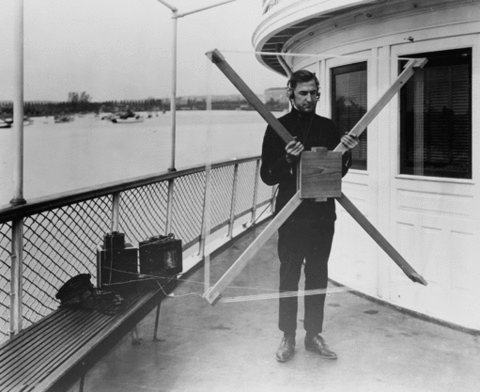 Sailors and aviators owe a lot to the Institute, which during and after World War I developed several radio technologies that made navigation much safer.
Among the innovations was a radio direction finder (RDF), a special antenna that determined the direction of radio transmissions. The original RDF was made by an Italian team, but NIST researchers patented an improved design, built in 1916. It served as a prototype for the U.S. Navy and was used widely to pinpoint the positions of enemy forces during the war. By the mid-1920s, many civilian vessels were outfitted with the "radio compass," as it came to be known. The photograph at right shows a radio compass and amplifier receiving signals from ships at sea.
In another application of the coil antenna, the Institute disproved the then-common notion that radio communication was impossible under water. In 1917, NIST placed an RDF under water and received signals clearly; it then built a simple but effective radio apparatus for submarines.
The Institute's greatest contribution to navigation was probably the use of radio technology to make the first "visual type" radio beacon for an instrument landing system, which enables an air crew to locate and land on a runway in poor visibility. Indicators on the aircraft instrument panel recorded the signals from strategically placed radio transmitters, enabling the pilot to know the plane's approximate position in three dimensions at all times. The first "blind landing" relying entirely on radio guidance was made in 1931 in College Park, Md. The principles of this design provide the basis for today's air traffic control systems worldwide.
Notice of Online Archive: This page is no longer being updated and remains online for informational and historical purposes only. The information is accurate as of 2001. For questions about page contents, please

inquiries

[at]

nist.gov

(contact us)

.