In June 2016 following a comprehensive historical assessment, as required by law, a final determination of eligibility for listing in the National Register of Historic Places was made by the Keeper of the National Register who ruled that: 
"The entire NIST campus is eligible for the National Register of Historic Places under both criterion A (History) and criterion C (Design) as an historic district. The boundary of the eligible historic district is the same as that shown as the "NIST Campus Boundary" in Figure 7.1 on page 70 of the "Historic Assessment report and the list of contributing and non-contributing properties that shown in the "Addendum to Maryland Historical Trust, Maryland Inventory of Historic Properties Form," dated February 12, 2016."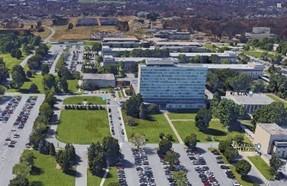 NIST's Gaithersburg campus has been recognized for its association with both significant advances in the history of science and technology as well as for its acclaimed mid-century modern architectural design and the embodiment of post WWII Suburban campus planning principles.
The historic district consists of resources that include more than 62 structures and numerous landscape features located within the 579-acre setting. Resources have been classified as either contributory or non-contributory.  Proposed changes to any resources, contributory and non-contributory alike must be planned and designed in accord with the Secretary of the Interior's Standards (SOI Stds.).
A comprehensive Historic Structure Report as well as a corresponding Building Condition Survey dated March, 2020 must be consulted in advance of any planned work involving Building 101 and its surrounding grounds.  This report also contains Preservation Zone Plans that prescribe approved treatment approaches for different areas as well as an inventory of significant features and materials of the Building 101 complex and tower. Similarly, an Historic Structures Report and Condition Assessment with corresponding Preservation Zone Plans developed in April 2022 shall be consulted for any and all work proposed for the original General Purpose Laboratory Buildings (220-227).
Furthermore, all proposed changes must be approved in advance by the NIST Federal Preservation Officer (FPO), the SHPO, and in some cases the NIST Architectural Design Review Board as part of a legally required consultation process known of as Section 106 Review.  All communication with the SHPO is coordinated solely through the NIST Federal Preservation Officer (FPO). 
Many routine maintenance and operational activities, however, are governed by a Programmatic Agreement (PA) developed by NIST and the SHPO.  The PA, nonetheless, requires that the NIST FPO be apprised of any all such activities which in turn are documented and reported the SHPO as part of an annual report.
Gaithersburg Resources: