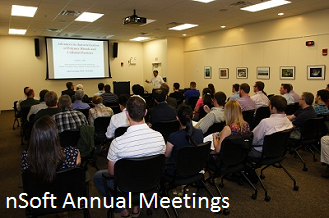 The NIST nSoft Consortium strives to provide an environment where new technical developments and existing capabilities can be shared with members. Key to this goal is the annual members meeting held at the NIST Center for Neutron Research in Gaithersburg, Maryland, USA. The meetings are always open to the general public provided that an attendee follows the prescribed steps for registering for the meeting. Below are links to information from planned upcoming meetings and past meetings.
2016 Annual Meeting - October 20, 2016 - NIST Center for Neutron Research (registration) (agenda and information)
2015 Annual Meeting - A goal of the consortium is the transfer of expertise in neutron methods. For the first time at this meeting, the presentations were primarily provided by the member principal investigators. The presentations demonstrated the maturity of understanding within member institutions on how to navigate a suite of neutron methods to achieve goals in research and development. A common theme from the meeting was the need to better develop communication strategies so that member companies get the message of the capability and strength in collaborations such as nSoft.  nSoft committed to ramping up visits to member companies to make the 
2014 Annual Meeting - nSoft began with a consortium contract in 2012 that spanned 2 years. In 2014, the membership was engaged in discussions over whether to continue, the terms of any new agreement, and the possible inclusion of new members. Importantly, the discussions led to the shift of the nSoft "year" to a November-November basis, rather than the August-August basis of the past. As a result of this activity, it was decided to cancel the annual meeting planned for 2014 and restart in 2015 under the new contract.
2013 Annual Meeting - The 2013 meeting represents the first meeting under a fully operational consortium. Presentations were given primarily by NIST staff and academic institutions collaborating with nSoft members. Many of the attendees were from companies that were considering membership or were in the process of joining. As a result, the meeting had a very speculative view of the future, offering many possibilities for research thrusts with few definitive directions. 
2012 Consortium Workshop - The first annual meeting was held prior to the existence of the consortium. The 2012 workshop collected many of the people who would later help form the consortium and provided a venue in which the industrial research and development community could help define the goals and preferred terms of what would become nSoft. The discussion was lively and very informative, with many contrasts drawn to prior efforts of user facilities around the world to engage this community. The primary goal of those attending was to develop a method of access that matched the time and cost structure of industrial projects, and would allow participants to test the science behind products that is often described but not rigorously tested with existing benchtop methods in analytical laboratories.