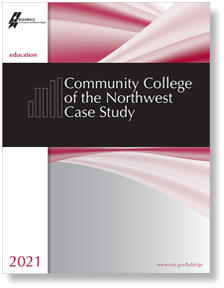 The last year brought unique challenges for higher education. Considering issues of equity and inclusion, resilience, and innovation, the fictitious 2021 Baldrige Case Study: Community College of the Northwest (CCNW) brought to life these challenges and key aspects of the Baldrige Excellence Framework: Proven leadership and management practices for high performance during a year when colleges around the country were dealing with the COVID-19 pandemic.
CCNW shows how one organization applied the Baldrige Education Criteria across seven key areas of its performance. The case study, which was used to virtually train the 2021 Baldrige Examiners, can be used as an example for other organizations in every sector on how they might use the Criteria questions to assess and improve their performance, even if they are not interested in applying for a Baldrige Award.
Baldrige master examiners Meridith Wentz and Tom Field led a team of other master examiners—Deborah Ameen, Carlos Ayala, Michael Belter, Stephen Bonk, Catherine Craver, and Dawn Garcia—to research and write the CCNW case study. With a vision to be the best in the nation in providing students with accessibility, affordability, career-readiness, and social responsibility, CCNW was created to be challenged, as many community colleges are, with decreased state funding, increased competition for students, and demands to close the achievement gap. The writing team created processes for succession planning and development, best-practice sharing, representation of diversity, complaint management, feedback loops, dashboards, intelligent risks, and innovation. Reviewers Kristin Stehouwer, Fonda Vera, Debi Gaitan, Jan Garfield, Kathie Gilbert, and Liz Menzer provided guidance to the team.
Baldrige case studies have at least three purposes.
First, given that actual Baldrige Award applications remain confidential until award-winning organizations approve selected content for public sharing, the case studies are used to train examiners for the Baldrige Program's annual award process. 
Second, the case studies serve as sample applications for organizations interested in applying for a Baldrige Award or in writing a whole or partial application as a self-assessment.

Finally, case studies are used by Baldrige-based regional or state award programs that are members of the nonprofit 

Alliance for Performance Excellence

, part of the Baldrige Program's public-private partnership.
A team of Baldrige master examiners (Bao Huynh [team leader], Bo Snyder [backup team leader], Jan Garfield, Kevin Grayson, Kathy Jenson, Pat Lapekas, Denise Shields, and Kristen Stehouwer) evaluated the case study of the fictitious organization against the Criteria and created a consensus scorebook. You can learn how CCNW scored in that assessment against the 2021–2022 Baldrige Excellence Framework through the following free, downloadable resources:
The 2021 Community College of the Northwest Consensus Scorebook (PDF)

The 2021 Community College of the Northwest Feedback Report (PDF), which shows the scorebook comments in the format of the reports received by actual Baldrige Award applicants at the end of the annual evaluation process
Beyond learning from best practices and other examples in this case study, organizations that wish to get started with Baldrige-based performance improvement can access sector-specific resources online at "Baldrige by Sector" and basic ideas for how to get started using the Baldrige framework. 
Since 1987, the Baldrige Program has produced case studies that describe how fictitious organizations are fulfilling the elements of the excellence framework and continually improving in challenging situations and economies. The case studies rotate sectors to show examples for a variety of organizations using the three versions of the Baldrige Excellence Framework: Business/Nonprofit, Health Care, and Education.
Additional Baldrige case studies are available for free downloading in the Baldrige materials archive.