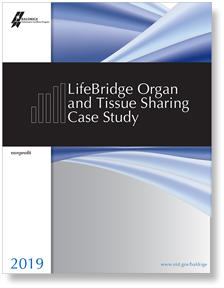 The 2019 Baldrige Case Study: LifeBridge Organ and Tissue Sharing (LOTS) demonstrates how the Baldrige Criteria (part of the Baldrige Excellence Framework: Proven leadership and management practices for high performance) can be applied across seven key areas of any organization's performance. The case study, which features a fictitious, federally designated, organ procurement organization, was used to train the 2019 Malcolm Baldrige National Quality Award Board of Examiners on how a nonprofit organization might use the Baldrige Criteria as a guide to ensuring visionary and ethical leadership, an integrated strategy, customer-focused excellence, effective knowledge management and performance measurement, workforce engagement, efficient and innovative operations, and  excellent results—with room for improvement; as part of training, Baldrige examiners used the case study to hone their skills in identifying strengths and opportunities for innovation and improvement. 
Baldrige case studies have at least three purposes. First, given that actual Baldrige Award applications remain confidential until award-winning organizations approve selected content for public sharing, the case studies are used to train examiners for the Baldrige Program's annual award process. Second, the case studies serve as sample applications for organizations interested in applying for a Baldrige Award or in writing a whole or partial application as a self-assessment. In addition, the case studies show organizations in every sector how they might use the Criteria questions to assess and improve their performance, even if they are not interested in applying for a Baldrige Award. Case studies are also used by Baldrige-based regional or state award programs that are members of the nonprofit Alliance for Performance Excellence, part of the Baldrige Program's public-private partnership.
The Baldrige Program is very grateful to an actual organ procurement organization that allowed its own Baldrige-based award application to be the basis for this case study. From that real application, names and data were fictionalized, and elements were intentionally edited to be less mature, less beneficial, or missing in order for this case study to be scored lower by a team of examiners than the real application likely would be scored and thus provide more training opportunities. 
Adapted by volunteer Baldrige examiner Linda Martin, with her colleague Diane Brockmeier and the staff of 2015 Baldrige Award recipient Mid-America Transplant, LOTS depicts an organization dedicated to saving and improving lives through the coordination of organ and tissue donation. It is a 25-year-old nonprofit that serves 3.2 million people within the fictitious states of North Takoma and South Takoma. The delivery of services for two work systems requires the careful coordination of partners, collaborators, and key suppliers, and a partnership model is key to ensure that organs and tissues are always available for the organization's key customers. LOTS is a 24/7, heavily regulated business, in which many of the employees are decentralized. 
You can learn how LOTS scored in an assessment against the 2019–2020 Baldrige Excellence Framework through the following free, downloadable resources related to the LOTS Case Study:
The 2019 LifeBridge Organ and Tissue Sharing Consensus Scorebook (Word) was produced by a team of Baldrige master examiners (Scott Rogers [team leader], Bill Craddock, Pattie Curtis, Melanie Hatch, Ashley Holroyd, Pat Lapekas, and Deb McBride) who evaluated the fictitious organization against the Criteria. The Baldrige Program is especially grateful to this team of volunteers for the extraordinary efforts they undertook to work on the project with limited resources and guidance during the federal government shutdown in late 2018 through early 2019. 
This scorebook also includes insights gleaned from Baldrige examiners who participated in the 2019 Baldrige examiner preparatory class.
The 2019 LifeBridge Organ and Tissue Sharing Feedback Report  (Word) shows the scorebook comments in the format of the reports received by actual Baldrige Award applicants at the end of the annual evaluation process.
Beyond learning from best practices and other examples in this case study, organizations that wish to get started with Baldrige-based performance improvement can access sector-specific resources online at "Baldrige by Sector" and basic ideas for how to get started using the Baldrige framework. 
Since 1987, the Baldrige Program has produced case studies that describe how fictitious organizations are fulfilling the requirements of the excellence framework and continually improving in challenging situations and economies. The case studies rotate sectors to show examples for a variety of organizations using the three versions of the Baldrige Excellence Framework: Business/Nonprofit, Health Care, and Education.
Additional Baldrige case studies are available for free downloading in the Baldrige materials archive.