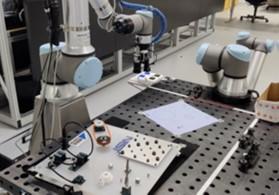 The goal of the competition is to test the capabilities of a robot system in performing assembly operations relative to a small-parts manufacturing process using assembly task boards. The task board for this competition was designed based on similar task boards that have been developed as part of a NIST project to support the advancement of robotic systems for variable small-batch production runs in future manufacturing systems (see: Assembly Performance Metrics and Test Methods).
Competition parts have been selected to replicate typical manufacturing assembly operations. Competing robot systems should recognize, grasp, and assemble/disassemble various parts including flexible ones, and assemble/disassemble a new product by quickly reconfiguring the system. The limited competition time and bonus applied remaining time should encourage autonomous system designs where the use of perception (machine vision and force sensing) will eliminate the time associated with teaching (also called lead through programming) and the need for jigs (also called fixturing). The principles of design & manufacture make part data readily available to the automated systems in the form of Computer-Aided Design (CAD) data. Therefore, all CAD models will be made available to competitors in the form of SOLIDWORKS part and assembly files. 
The manufacturing track of the Robotic Grasping and Manipulation Competition will consist of two subtasks; an assembly subtask, and a disassembly subtask both using a task board. Figure 1 shows the practice task board teams may use prior to the competition. Many of the components used are the same as those previously used on the NIST benchmarking task boards. Each board comes with a "kit layout" that presents predetermined part locations and orientations. The competition task board will be heavily based on the practice board but includes new part assembly locations, a new kit layout, and possible new parts. At the start of the competition run a judge will ask teams to place the board and kit layout in a randomized location (no more than 10cm and/or 10 degrees from its original position). Random board placement and part position changes are used to highly encourage the use of autonomous system designs. 
In a remote format, each team's competition run will be recorded by teams in their respective robot laboratory and viewed live using video conferencing by a remote judge.
Each team is responsible for video recording their competition run and providing a short demo of their system shortly after their competition run. This video should include information about the system, lessons learned, and possible areas for improvement. This video will be made available to conference attendees that may be interested in hearing more about your system. More detail is provided in the rules document below
After the competition runs, teams are often asked to participate in a workshop or discussion where each team will present their system. There are often guest speakers and interested collaborators presenting during this time as well. This is an opportunity for each team to see the performance and ask questions to the other competing teams.
Certificate
Teams will receive certificates of participation prior to the competition which will also present their placement if they are within the top 3. Prize money is not always available for competitions but will be awarded to the top 3 teams when possible.