Publications
International Standards Efforts Towards Safe Accessibility Technology for Persons with Disabilities: Cross-Industry Activities. Published in the Journal of The Standards Engineering Society, 2010.
Static and Dynamic Stability Performance Measurements of the HLPR Chair/Forklift, NISTIR 7667, National Institute of Standards and Technology, March 2010.
Design of the HLPR Chair: Home Lift Position and Rehabilitation Chair, NISTIR 7459, October 4, 2007.
A Multipurpose Robotic Wheelchair and Rehabilitation Device for the Home, Presented at the 2007 IEEE/RSJ International Conference on Intelligent Robots and Systems (IROS) San Diego, CA, Oct 29 - Nov 2, 2007.
HLPR Chair: A Novel Indoor Mobility-Assist and Lift System, Presented at the ASME 2007 International Design Engineering Technical Conferences & Computers and Information in Engineering Conference, Las Vegas, NV, September 4-7, 2007.
A Novel Patient Mobility and Rehabilitation Robot, Presented at the 13th IASTED International Conference on Robotics and Applications 2007 (RA07), Wurzburg, Germany, August 29-31, 2007.
Recent Developments of the HLPR Chair, Presented at the International Conference on Rehabilitation Robotics (ICORR 2007), Noordwijk aan Zee, The Netherlands, June 13-15, 2007.
Survey of Patient Mobility and Lift Technologies: Toward Advancements and Standards, NISTIR 7384, December 19, 2006.
HLPR Chair– A Service Robot for the Healthcare Industry, Presented at the 3rd International Workshop on Advances in Service Robotics, Vienna, Austria, July 7, 2006.
Presentations
HLPR Chair - Home Lift, Position, and Rehab Chair A Service Robot for the Healthcare Industry, Presented at the 2006 3rd International Workshop on Advances in Service Robotics, Vienna, Austria.
Videos
Watch the "HLPR Chair Video" Video

Navigation for the Blind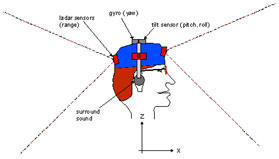 Publications
Applications of a 3D Range Camera Towards Healthcare Mobility Aids, Presented at the International Conference on Networking, Sensing and Control, Ft. Lauderdale, FL, April 23-25, 2006.
Lifters
Leg Lift/Mover
Instead of forcing wheelchair dependence onto immobile patients, we would like to provide devices that support the notion of walking again. This concept would be a wearable device to lift and maneuver one or both legs. The device would allow, for example, a stroke victim or leg-injured patient to independently and frequently exercise the affected leg toward rehabilitation, leg exercise, gravity compensation for the leg, or in some case learning to walk again. This tendon-driven device would be minimally invasive and could be configured as a pair of trousers with the tendons along the fabric. Motors can be worn on the belt and a special shoe with tendon connections would provide the necessary lift points. A modified, off-the-shelf knee support would provide the interim cable routing. And, the patient's leg bones would provide the compression members. The concept is now being studied at NIST.
Cane Lift
Presentation
Walking-Cane Leg-Lifter simple attachment to canes
Roger Bostelman
2/25/05
Patient Lifter
Based on the RoboChair concept and as a first step to inserting a human-lift device into the healthcare industry, the LIFTER is designed to allow a persons' upper body to be lifted and the person placed on a bed, chair, toilet or even floor. Mobility is self/caregiver-powered (walking), assist-power (optional - walk with some mobility power from LIFTER), or powered (optional - full mobility power from LIFTER). Powered requires additional drive motors not shown in the graphics. Also, for typical stroke victims where the right leg is not or partially functional, a fold down, removable footrest can be optionally attached to the right side. For full mobility, footrests for both feet can fold down.