WHAT IS HMM?
HMM is a performance-based approach to WUI fire hazard mitigation for structures, parcels, and communities. The proposed methodology was developed to reduce structural losses in WUI fires by hardening structures and parcels across a community. HMM prioritizes mitigation efforts to reduce overall mitigation costs. Click here to go the HMM project site.
WHY WAS HAZARD MITIGATION METHODOLOGY (HMM) CREATED?
In the last 20 years, WUI fires have become more severe and destructive. Structural losses occur due to exposures from both embers (firebrands) and fire. HMM was created to harden structures to fire and ember exposures from WUI fires. Traditional hazard mitigation strategies focus on individual structures or parcels; however, comprehensive WUI fire mitigation requires a community-wide hazard assessment and mitigation method to address this complex community problem. The HMM goes beyond the traditional approach of protecting individual homes and addresses the unified problem of protecting the entire WUI community.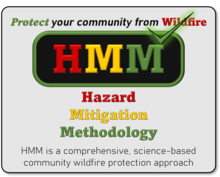 THE EVOLUTION OF STRUCTURE PROTECTION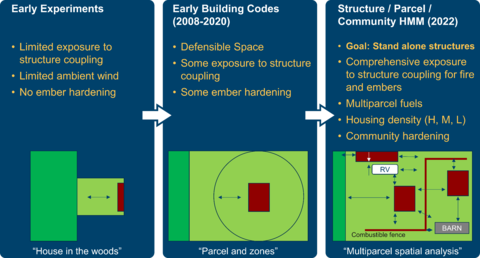 LINKS TO: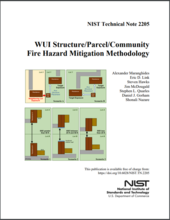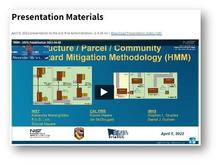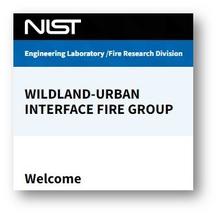 HOW IS HMM DIFFERENT FROM TRADITIONAL CODES AND STANDARDS?
HMM is a spatial approach, not a parcel-centric approach. Current building codes and standards specify minimum hardening requirements, that add value in reducing losses in certain conditions. For example, the fire-hardened structure on the left, compliant with an existing WUI building code, survived the exposure from the burning shed. The non-hardened structure on the right ignited within minutes of exposure.

Best practices are typically voluntary and therefore may not be uniformly adopted or implemented across the community. Furthermore, current approaches often do not address all vulnerabilities that have been identified from past WUI fires. This leads to partial protection of individual structures and the community as a whole.
Comparisons of HMM to some current building codes are provided in a table, found here: HMM Table 6 "HMM items completely included in selected existing WUI building codes"
WHO CAN USE HMM?
  ✓  Existing communities, via retrofitting
  ✓  New construction