Homes often survive because they are protected from fire or ember ignition, or are defended by first responders.
A structure can survive a WUI fire if there is appropriate balance between the exposures experienced and the level of structure hardening (using construction design and materials). As indicated in the figure below, a baseline level of hardening for ember exposures is essential for all structures in WUI communities since ember exposure is generally uncontrollable. A balance can be tuned by adjusting the two dials representing exposure level and structure hardening to avoid cases of under-hardened structures (i.e., insufficient hardening for configurations with high fire exposures) and over-hardened structures (i.e., excessive hardening in place for configurations with low fire exposure).
Cost-effective hardening is achieved by:
low structure hardening for low exposures, and
high structure hardening for high ember and fire exposures.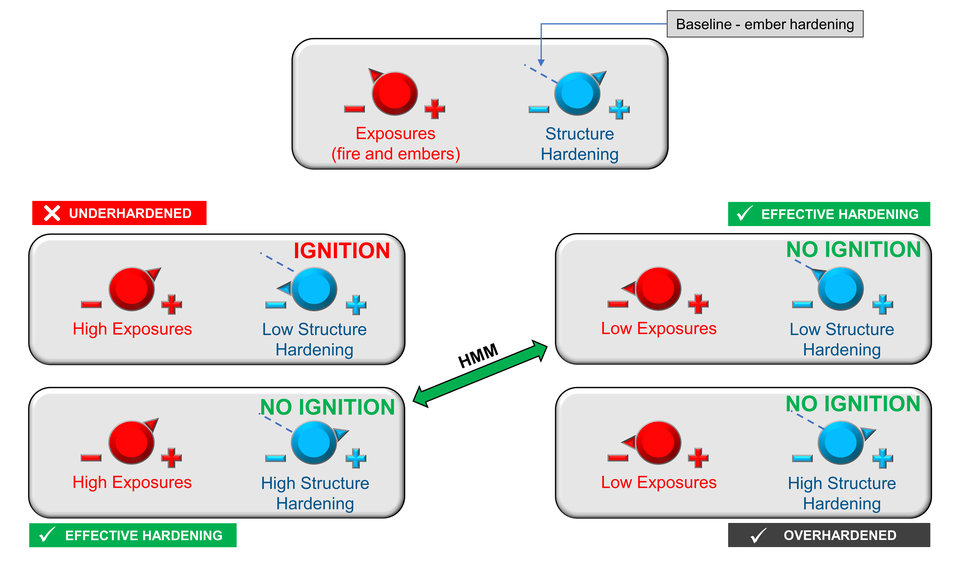 A note on defensive actions: firefighters effectively modify the exposure to the structure or increase the fire resistance through direct suppression actions to the structure. Often, structures that are undamaged or not destroyed are the ones that were actively defended. NIST WUI fire reconstructions have determined that most (> 90 %) damaged structures were defended and saved by specific first responder actions. However, fuel agglomeration can impact the effectiveness or ability to perform defensive actions. Structures must be designed to stand alone as the number of exposed structures can quickly outnumber available resources.