For more information about the specific Divisions and Offices that make up NIST please go here.
Our employees have numerous reasons why they chose to work for NIST. For some insights about what it is like to work at NIST, see some of our employee's testimonials below.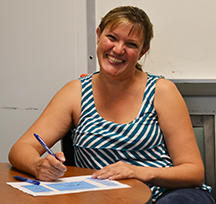 "Writing this today, it's hard to believe that I started working at NIST 27 years ago. I was still a high school student, and with one year left until graduation, I truly had no idea what my future held. During my senior year, I worked at the NIST nuclear research facility and was amazed by how knowledgeable and helpful the people I worked with were. I knew that after graduation I would be unable to afford to attend college, leaving me unsure of my next steps. But luckily, as soon as I graduated, I was offered a better position and full-time employment. As the years passed, I grew and changed jobs within NIST a couple of times, including a wonderful 16-year period in the Director's Office that covered 5 official NIST Directors. I have been extremely lucky to have worked for some outstanding managers—people who treated you as not only an employee, but as an individual with an outside life as well. I have successfully raised a wonderful daughter and have grown into a job that I am extremely happy with. NIST has offered many benefits—a wonderful health benefits package, flexible work schedules, and a commitment to helping employees further their education and learn many things to help improve their job skills. Thanks to the classes and other skill-improving options that I have been offered, I was able to advance. I truly believe that NIST was one of the luckiest things to ever happen to me and I cannot imagine working anywhere else."
– Thelma Allen, Information Specialist, Software Quality Group
---
"The National Institute of Standards and Technology offers many opportunities for education and experience. They encourage their employees to learn and develop new skills to continue to grow and excel in their career. I have had the pleasure to work here as a student and grow into a career conditional appointment through numerous mentors and training opportunities."
– Autumn Hernandez, Business Liaison Specialist, Manufacturing Extension Partnership Program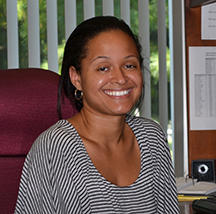 ---

"As a veteran and active reservist, I have always been impressed with the support and consideration that the National Institute of Standards and Technology provides for me. I enlisted in the reserves just days before I interviewed for my position at NIST, so when I got the job I knew I was in for a challenge! Luckily, my supervisors were very understanding – though my position was essentially a one-man operation, they were able to arrange coverage for me during my initial training for the reserves and continue to be very supportive."
– Michael Queen, Security Assistant, Police Services Group
---
"What I like most about working at NIST is the ability to plan out solutions vs. being reactive to change; NIST affords me time to plan and structure my workload in order to find the best solutions for whatever I am tasked with. What a relief!"
– Karen Waltermire, IT Specialist (Security), Information Technology Laboratory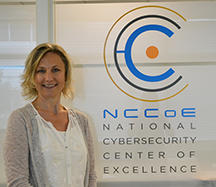 ---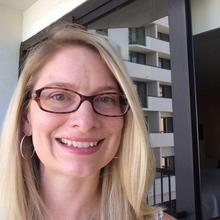 "My job as a materials research engineer in the Material Measurement Laboratory at NIST really is my dream job. I have the opportunity to innovate and apply my education to solve real-world problems through research. I also have the opportunity to help develop standards that have a real, quantifiable impact on people's lives, and work through STEM outreach programs to help develop the next generation of scientists and engineers. I love knowing that my work at NIST really does help people's everyday lives."
– Amanda Forster, Physical Scientist, Security Technologies Group, Material Measurement Laboratory
---
"Working at NIST for the past nineteen years has been a very rewarding experience. I've had many opportunities for advancement and supporting the scientific staff has always provided me with a great sense of accomplishment. I never know what each day will bring, but I know it will peak my interest and be a new learning experience."
– David Francis, Plant Division JOC Group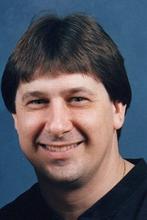 ---
"Working at The Center for Nanoscale Technology at NIST is an educational and rewarding experience. As an Engineering Technician in the NanoFab, I apply my past work experience and education to keep a suite of state-of-the-art equipment running and up to the ever-changing needs of government, academic, and private industry research. As an employee, I am able to continually expand my knowledge and skillset, as well as take on new and challenging responsibilities within my team. At NIST there is a culture of educational and professional development. I can confidently say that the opportunities for training are endless and always strongly encouraged by supervisors. The real reward for me, however, is using my skills to directly assist in cutting edge research in a world-class user-facility that is only complimented by its diverse user base and dedicated staff."
– James Bittner, Engineer Technician, Center for Nanoscale Science and Technology
---
"My postdoctoral experience at NIST has provided me an excellent opportunity to work on exciting research and to advance my skills in electron microscopy. Working on an advanced commercial analytical transmission electron microscope (TEM) and a suite of state-of-the-art metrology tools, I was able to apply detailed 3D tomography to visualize a range of nanostructures, including carbon nanotube composites, block copolymer films, and a Li-ion battery made from a single nanowire. The researchers at NIST have been consistently helpful, leading to collaborative opportunities that were extremely productive and enjoyable. I will always view my time working as a NIST postdoctoral researcher as a spectacular opportunity that allowed me to gain a better understanding of my strengths as I move on to my next step as a researcher. "
– Thomas Lam, Postdoctoral Researcher, Center for Nanoscale Science and Technology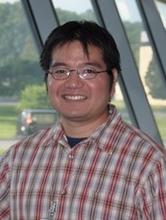 ---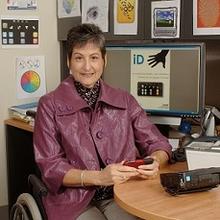 "There are a few things that make NIST a great place to do research. First, I'm able to set a direction for my own research here—I've had the freedom to build a research program that addresses the kind of problems that I think are important to solve. In other research environments where I've worked, I've had to spend a lot of time and energy developing outside funding sources; here at NIST, I'm able to focus primarily on the research. In the long term, the research results we've obtained have just naturally attracted additional funding from other sources. But maybe the most important part of NIST's research environment is the opportunity to work with so many talented colleagues with such varied backgrounds and interests. That allows our team to tackle fascinating and complex interdisciplinary problems, and it means that I'm constantly learning new things."
– Mary Theofanos, Computer Scientist, Information Technology Laboratory