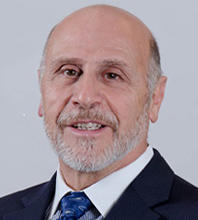 In 1988, when C. Richard Panico founded
Integrated Project Management Company, Inc.
, it was the first project management consulting firm in the United States. As IPM president and CEO, Panico has helped evolve the discipline of project management while creating proprietary methodologies to supplement the practice.   
IPM's relationship-driven approach is evident in Panico's own actions: he personally logged 321 contacts with customers in one recent year. This customer focus has led to results such as overall satisfaction scores of 9 out of 10 in post-service survey responses from customers, as well as an average customer satisfaction rate of 99 percent for the most recent three calendar years. The company's annual revenue increased more than 60 percent over the four years preceding its Baldrige Award in 2018.  
In April, Panico will officially accept this Presidential award—the nation's highest honor for organizational excellence. Consequently, at the Baldrige Program's 31st Annual Quest for Excellence® Conference, Panico and other IPM leaders will present processes and practices that have helped the small business become a high-performing role model for U.S. organizations.
In the following interview, Panico describes the focus of his upcoming Quest presentation on leadership, highlights how the Baldrige Excellence Framework has supported IPM's journey to excellence, and gives four reasons why other organizations can also benefit from using the framework to improve their performance.
Congratulations as your organization will be officially receiving its Baldrige Award at the ceremony this spring! Do you wish to share how you feel about this great achievement or how you or other employees reacted when you heard the news of winning the award?
Achieving the Baldrige Award was our Superbowl! 
Our people were ecstatic when they heard the news. It is the highlight of an obsessive journey to improve every aspect of our business. More important, it validates the high-performance caliber of our people and the effectiveness of IPM's business model and processes. Together these have enabled our evolution, sustained growth, and competitiveness. It places us in a distinguished group of other high-performing enterprises and further differentiates IPM.
Would you please describe the topic of your leadership presentation at the upcoming Quest conference?
The title of my presentation is "Essential Leadership: Inspiring Culture, Strategy, Execution, and Evolution." The presentation is focused to emphasizing the leadership's deep and critical role in establishing and sustaining a culture that drives both professional behavior and sustainable organizational high performance. 
An organization is part of a complex ecosystem of people and processes that—when properly focused through clearly stated values, a vision, a strategy, and a construct of well-defined and executed initiatives—continually evolves and even transforms to remain relevant and competitive. This ecosystem is enabled or hindered by leadership. 
How has the Baldrige Excellence Framework contributed to your organization's success? Would you please share an example or two of Baldrige-based best practices at your organization and/or tips for using the Baldrige framework?
As our organization has been focused on continuous improvement since its inception, the Baldrige Excellence Framework has motivated us to be more deliberate in assessing every aspect of the business. It helped us apply a higher level of scrutiny to our performance across every function and accelerated the development of more insightful key performance indicators (KPIs).
IPM's best practices include developing and sustaining a values-based, high-performing culture and strategic planning and execution. 
For organizations planning to use the Baldrige framework, it is important to recognize that this journey will require dedicated, focused resources. Like any other major initiative, it requires a strong leader, a well-orchestrated plan, and dedication to maintain momentum. It is best to understand the framework well before launching the journey. This is best accomplished by having the lead person and core team participate in examiner training; this will provide invaluable insight. Executive sponsorship/encouragement throughout the journey is also a critical requirement. 
What are a few key reasons that organizations in your sector can benefit from using the Baldrige framework?
They can
Develop a better understanding of constraints to performance
Gain insight to competitors and competitive influences
Improve the quality and application of KPIs to aid a real-time understanding of business performance and, therefore, decision making
Improve strategy to drive greater and sustainable growth and profitability
IPM is a privately held business consulting company with 182 employees. Headquartered in Burr Ridge, Illinois, the small business has seven locations throughout the United States. It offers specialized services in ten areas essential to its targeted industries, which are life sciences, consumer products, industrial products, and health care. Beyond manufacturing-related projects, IPM has greatly expanded its range of project services over the past three decades to encompass areas such as organizational strategy and operational improvement initiatives.
---
COME. LEARN. NETWORK. ENGAGE.

Quest for Excellence® Conference
NATIONAL HARBOR | April 7–10, 2019
Join us for the 31st Annual Quest for Excellence Conference showcasing the best practices of the 2018 Baldrige Award recipients!
AWARD CEREMONY
Sunday, April 7
Join us Sunday evening for the Award Ceremony and Reception honoring the 2018 recipients.
---