Imagine if your dream job was saving lives on a global scale? It's an aspiration and a pretty, big job description for most of us.
But what if it was possible and actually happening at 2017 Baldrige Award recipient Stellar Solutions, Inc.? There, what started as a scientific interest on the link between magnetic fields and earthquakes has led to company support of a magnetometer in space. What some once thought as science fiction has led to a growing dataset and an evidence-based framework (think data-based decision making in the Baldrige Criteria) that enables algorithms to rapidly evaluate and potentially predict earthquakes. 
Remember that dream job concept to save lives and even improve life on our planet? At Stellar Solutions, these jobs are coming true for the engineers and scientists creating QuakeFinder.
In the following interview, I sought more detail on the work being done by QuakeFinder's team and the dream-job concept at Stellar Solutions from Dan Schneider, QuakeFinder's director of research and development.
How did QuakeFinder come about (i.e., what inspired it)?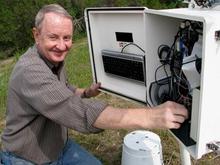 Tom Bleier, founder, CEO, and chief technology officer of QuakeFinder, became interested in certain phenomena reported that occurred during and in some cases prior to earthquakes. One phenomenon particularly intrigued him—that of earthquake lights. Flashes of light, almost like lightning near the ground, have been seen and reported for many earthquakes. They have been described in written records dating as far back as 869 AD and more recently captured on security camera footage and mobile phone video. 
Some researchers have hypothesized that these flashes could be caused by charges building up within the earth and then discharging visibly at the earth's surface. Such a charge build-up might slightly distort the magnetic field and be detectable with a magnetometer. Indeed, a Stanford researcher running a magnetic experiment happened to record unexplained changes in magnetic field behavior prior to the Loma Prieta earthquake in 1989 in Northern California. After learning of this, Tom began to work with local high schools to deploy an array of magnetometers in hopes of recording the magnetic field prior to more earthquakes. Stellar contributed the initial funding for the effort. That lead to the QuakeSat deployment of an induction magnetometer in space and eventually the terrestrial network we run today.
Can you share a little about how QuakeFinder predicts earthquakes?
At a very basic level, we look for unusually high levels of magnetic activity. To do this, we characterize the typical magnetic field variations at each of our more than 150 stations. Once this baseline is established, we monitor the stations and keep tabs on the level of magnetic activity, comparing the most recent 8–10 days to what is typical at that location. 
While there are many things that can cause increased activity (construction, lightning, and solar storms to name a few), we have found that if the recent days contain more activity than the longer average, this correlates to a higher likelihood of an earthquake in that location in the next several days. Using the relative activity levels, we attempt to rate the chances of an earthquake in the near term relative to other stations and time periods. Eventually, we aim to turn this relative ranking into earthquake forecasts that would work something like the "percent chance of rain" in a weather forecast.
In June 2019, Stellar Solutions announced that QuakeFinder, "its pioneering electromagnetic earthquake-forecasting research initiative," was named one of the 10 winners in phase 1 of MagQuest, a National Geospatial-Intelligence Agency challenge "to attract novel approaches to advance the efficiency, reliability, and sustainability of geomagnetic data collection for the World Magnetic Model (WMM)." What's the significance of QuakeFinder's capabilities being applied to the WMM?
QuakeFinder has been working with magnetometer data for almost twenty years. Stellar has a wealth of space and systems engineering expertise. The MagQuest contest to collect data for the WMM allows us to bring both to bear on the solution. A viable solution will require familiarity with both magnetic measurement and data processing, as well as systems engineering for space-based missions. We have all of that within one organization. 
Beyond that, the QuakeFinder team has long worked toward having a global impact saving lives by forecasting earthquakes. The WMM may not save lives directly, but it definitely has a global impact, and will positively benefit nearly everyone on this planet!
According to the MagQuest article, Stellar has a database containing information on more than 1,000 earthquakes, and the team is now hard at work at developing algorithms to analyze these signals. Can you tell me about this work, this team? What will be done with the algorithms (i.e., what's next for QuakeFinder)?
Earthquake forecasting has long been thought of as science fiction, wishful thinking, or even pseudo-science. Analysis of QuakeFinder's dataset can start to change that perception. Much prior work in the field has focused on a handful of earthquakes or even just a single quake. This is due, in part, to the difficulty of collecting data on many earthquakes. They are relatively rare in any given location. 
However, the QuakeFinder network, with more than 150 sensor stations recording 24/7, has observed enough earthquakes to analyze potential precursors from a statistical perspective. Our team, including experts in data science, geophysics, and software and systems engineering, has developed a framework that enables algorithms to be designed and rapidly iterated and evaluated for their performance against many earthquakes. 
We have submitted a manuscript, detailing our best algorithm to date, for peer review and publication in an academic journal, which we anticipate will be released later this year. With those results published in the literature, we hope to secure additional funding to scale up the effort and more rapidly iterate the successful algorithms. Meanwhile, our stations continue to collect more data that we'll use to validate the algorithms as they mature.
Stellar believes in helping employees find their dream jobs, and I'm assuming QuakeSat was Tom's. How did/does Stellar make space for employees' dream jobs/projects, as appropriate?
The concept of the dream job has been part of the company since the beginning. Stellar's vision statement captures this—"Satisfying our customers critical needs while realizing our dream jobs"—and the company actually strives to measure this and help employees find their dream jobs. Many of the programs the company works on offer not just interesting, hard problems to solve, but ones with national or even global significance. That means that much of our work really is dream job material. Who doesn't want to work on something that really matters and where your contributions make a difference? Additionally, with the breadth of programs making use of Stellar's expertise, when it's time to branch out and try something a bit different, management is able and willing to help employees identify opportunities to move into new problem spaces.
Stellar won the Baldrige Award in 2017. Can you tell me more about what the company has been up to since?
The company has attended approximately 15 regional Baldrige conferences, with a focus on "paying it forward." Additionally, we are working on our [Baldrige feedback report] opportunities for improvement and continue to strongly encourage employees to take Baldrige training.
---

Baldrige Excellence Framework
The Baldrige Excellence Framework has empowered organizations to accomplish their missions, improve results, and become more competitive. It includes the Criteria for Performance Excellence, core values and concepts, and guidelines for evaluating your processes and results.
Available versions: Business/Nonprofit, Education, and Health Care
---