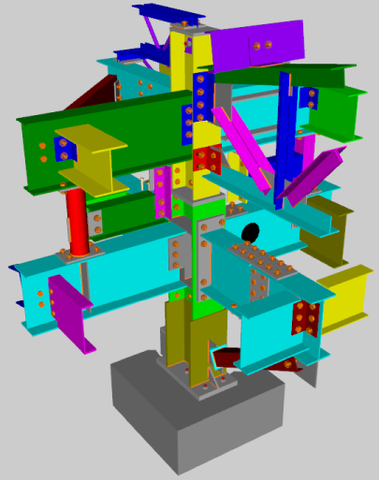 SteelVis is a viewer for CIS/2 files and a translator from CIS/2 to IFC files.  SteelVis visualizes CIS/2 files by generating a VRML (Virtual Reality Modeling Language) file that can be displayed in a VRML viewer.
The CIMSteel Integration Standards (CIS/2) is the product model and data exchange file format for structural steel project information.  CIS/2 is intended to create a seamless and integrated flow of information among all parties of the steel supply chain involved in the construction of steel framed structures. CIMsteel stands for the Computer Integrated Manufacturing of Constructional Steelwork.  The EXPRESS schema name for CIS/2 is STRUCTURAL_FRAME_SCHEMA.
CIS/2 has been implemented as a file import or export capability by many steel design, analysis, engineering, fabrication, BIM, and construction software packages. A CIS/2 file exported by an analysis or design program could be imported into a detailing program to detail the connections.  CIS/2 itself is not a software package that you buy.  The user will see it as a file format, just like DXF is a file format, that is imported or exported in steel related BIM software.
The CIS/2 standard covers everything from nuts and bolts to materials and loads to frames and assemblies. Structures can be represented as analysis, design, or manufacturing (detailed) models. There is a logical relationship between the different types of models. For example, a beam in an analysis model that has to be subdivided for analysis is logically only one beam in the detailed model.
The use of CIS/2 and the Industry Foundation Classes (IFC) is an important part of improving the delivery of structural steel projects in the steel supply chain. It can eliminate the redundant and error-prone reentry of information. Interoperability between different CAD software packages using CIS/2 and IFC is also a key driver of Building Information Modeling (BIM).
CIS/2 was developed at the University of Leeds (UK) and the Steel Construction Institute (UK) in the late 1990's. Chuck Eastman at Georgia Tech was very instrumental in the development and implementation of CIS/2. The American Institute of Steel Construction (AISC) adopted CIS/2 as their data exchange format for structural steel in 2000, however, IFC is now the focus of their interoperability strategy.
Resources: Sample CIS/2 Files, CIS/2 Documentation, Schema, Workshops, Tutorials (55 MB)