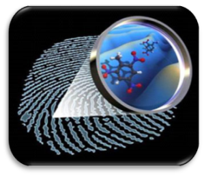 Optimization of Trace Detection Technology – This research focuses on optimizing the performance of currently deployed trace detection methods and technology. Examples include investigating variables such as the effects of different environmental conditions and instrument settings, and metrology of particle removal from surfaces via direct wipe and aerodynamic sampling. We have also developed tools for improved sampling efforts such as force sensing sampling wands and biomimicry based on canine olfaction.
Nature of the Threat: Advanced microscopy tools and techniques are used to characterize signatures of current drug and explosive threats. For this project, we use a variety of measurement techniques and tools to gain a full understanding of current drug and explosive threats. Particle sizing, spatial distribution, bulk quantification, test material characterization, and chemical characterization are performed utilizing polarized optical microscopy, imaging mass spectrometry, imaging x-ray fluorescence, DESI/DART mass spectrometry. Information about the physical and chemical properties of these materials is used to support standard test material development, as well as optimal sampling strategies for each threat.
Next Generation Technology: Using NIST expertise in basic metrology, standards, microscopy, fluid mechanics and flow visualization, high speed videography, and computation fluid dynamics, NIST can identify limitations in new technologies and provide potential solutions early in the development cycles of next-generation equipment. Current efforts include development of front-end sampling methodologies for mass spectrometers, metrology support for orthogonal detection platforms (X-ray and trace sampling), (can link from here to optical, IMS-MS, mini-MS, etc.)
Standard Trace Test Materials: We provide standard test materials to support optimization and calibration of existing trace detection technologies and to assist in the development of emerging technologies. Inkjet printing is used to prepare well-characterized direct insertion test materials on sampling swabs, and is also used to fabricate particle and vapor standards. Other types of test materials include particle suspensions, dry-transfer substrates, and stand-off detection standards.  
Training and Operational Improvement Recommendations: An important aspect of all these projects is to make share the information and knowledge that we gain in the above research areas available with the people in the field who use this technology on a regular basis. We have been involved in providing recommendations and even training ideas to optimize the collection and detection of various threats using current technologies.