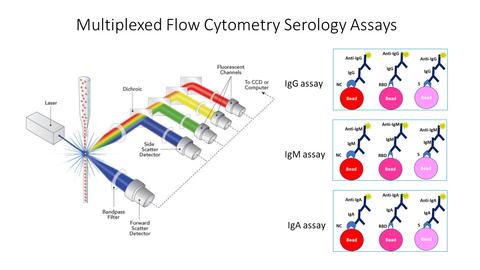 Multiplexed bead-based SARS-CoV-2 serological assay
We have developed a validated multiplexed bead-based SARS-CoV-2 serological assay that measures different antibodies produced by a patient (IgG, IgM, IgA). In collaboration with the NIST Applied and Computational Mathematics Division, we have developed a new strategy to more confidently classify positive and negative samples. The validated assay was used to characterize the first WHO Serology Reference Panel through an inter-laboratory study as well as upcoming effort to develop Second WHO International Standard for SARS-CoV-2 Antibody and Variants of Concern (VOC) Panel.
BSL-3 sparing neutralization assays
We have developed surrogate bead-based neutralization assay via flow cytometry and pseudo-virus neutralization assays via live cell imaging and flow cytometry to assist SARS-CoV-2 vaccine and therapeutic development.  These assays will enable the functional assessment of the ability of serum antibodies to prevent cell binding, entry, or other effects of the virus on the cell in vitro. Data showed excellent correlation between our serology and bead-based neutralization assay results.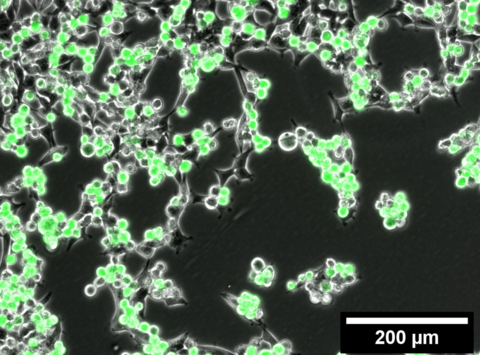 Interlaboratory study and reference materials to enable more quantitative serology assays
NIST and CDC are leading an effort to collect data through an interlaboratory study to
Determine the suitability of a mAb panel to be used in conjunction with the WHO International Standard to enable more quantitative serology assays

Develop a mAb panel to enable comparability and traceability of serological assay results collected over time as new variants emerge

Determine suitability of well characterized mAb as reference materials to correlate serological and neutralization assays
RELATED PUBLICATIONS
Towards Quantitative and Standardized Serological and Neutralization Assays for COVID-19