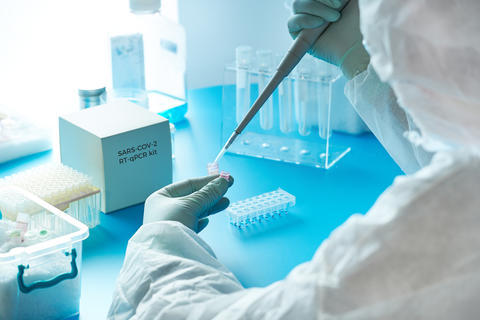 A new material from NIST can aid in the evaluation and development of RT-qPCR assays for SARS-CoV-2. We are offering a unit, free of charge, for evaluation in exchange for your feedback, which will help us improve and further develop the material. 
The National Institute of Standards and Technology is supporting the nation's response to the COVID-19 pandemic with measurements, standards, data, and data science. We immediately pivoted the NIST measurement infrastructure that has long supported biotechnology and biopharmaceutical manufacturing to address critical issues in the diagnosis and development of treatments for SARS-CoV-2.
NIST rapidly developed a reference material consisting of synthetic fragments of the SARS-CoV-2 virus RNA, which is the target of molecular diagnostic tests. These RNA fragments can assist in the development and validation of RT-qPCR assays for the detection SARS-CoV-2. The RNA fragments are characterized for concentration using digital PCR methods, may be used to assess limits of detection for SARS-CoV-2 assays, and may calibrate other in-house or commercial SARS-CoV-2 controls. We have characterized this material by size and multiple reverse transcription droplet digital PCR (RT-ddPCR) assays as well as qPCR methods.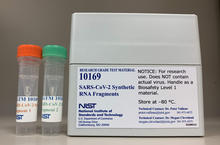 The SARS-CoV-2 Research Grade Test Material (RGTM 10169) differs from a NIST SRM in that it is not as highly characterized or traceable to the SI, but is homogeneous and undergoing continual stability testing.
The materials are not intended to be subjected to extraction processes.
The material consists of two synthetic RNA fragments from the SARS-CoV-2 genome in a background of 5 ng/μL human Jurkat RNA (stored at -80oC, BSL-1).
Fragment 1 –

Total length: 3985 nt, Includes SARS-CoV-2 sequence: 25949-29698 of isolate USA-WA1/2020

Fragment 2 –

Total length: 3790 nt, Includes SARS-CoV-2 sequence: 12409-15962 of isolate USA-WA1/2020
View the safety data sheet (PDF). 
To Receive RGTM 10169
Through funding from the Coronavirus Aid, Relief, and Economic Security (CARES) Act, NIST is making this material available free of charge.
This is not a diagnostic test for personal use. It is for the evaluation of clinical assays by researchers and laboratory professionals.
If you would like a free unit of RGTM 10169, please complete this form.
We will ship a unit to you. Please download the guidance sheet with details about the material including storage and instructions for use. 
To Provide Feedback
Please complete this form to provide feedback regarding use of this material. Sharing your experience will help us further test, develop, and improve the materials for future development. 
Example of feedback that we request:
Affiliation

Feedback on the material volume and concentration

Description of how the material was used

Concentration value estimates from quantitative and/or digital PCR methods

Feedback on the material's impact on your work
Thank you in advance for your participation in the development of this new material from NIST.
To Access Data for RGTM 10169
A GitHub site hosts raw data and information related to RGTM 10169.  Additional information will be uploaded over time.