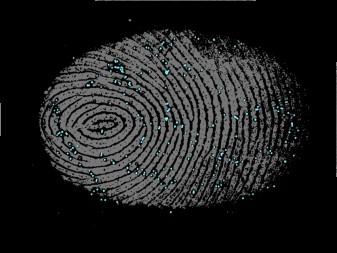 Chemical Analysis of Latent Fingerprints: Unlike traditional forensics where the aim is comparison of friction ridge patterns for identification, our group focuses on understanding the chemical composition of a fingerprint residue using a combination of traditional and advanced mass spectrometry techniques. This information is used to support projects evaluating complex background matrices and age-dating of fingerprints. Additionally, this research is leveraged to fabricate chemically-relevant artificial fingerprints for QA/QC studies.
Fire Debris and Explosives Research: Our group is focused on developing minimum guidelines to assist forensic laboratories in method development and optimization for fire debris and explosives analysis using existing technologies (i.e. GC/MS, LC/MS, DART-MS). Additionally, we characterize the performance of emerging techniques, such as fieldable mass spectrometry and ambient ionization mass spectrometry, to identify their applicability for forensic analyses. Additional work aims to evaluate the fate of evidence as a function of environmental degradation and storage.
Trace Narcotics Detection: While most narcotics research focuses on bulk level detection, our group specializes in trace level detection with an emphasis on presumptive testing, public health, and test materials production. Projects include developing methods for rapid screening of novel psychoactive substances (including fentanyl and its analogues), understanding the fate of trace narcotics residues due to environmental exposure, and determining background levels of narcotics to establish suitable instrument detection thresholds.
Trace Evidence: The STCAG also has a large effort in the examination of analytes which are commonly considered trace evidence or general unknowns.  Projects in this category include: characterizing the performance of colorimetric kits for gunshot residue analysis via inkjet printing, identifying contraband particles in fingerprints using TOF-SIMS, source attribution of single particles of explosives, new tools for detection of smokeless powders and propellants, and analysis of general unknowns by DART-MS.