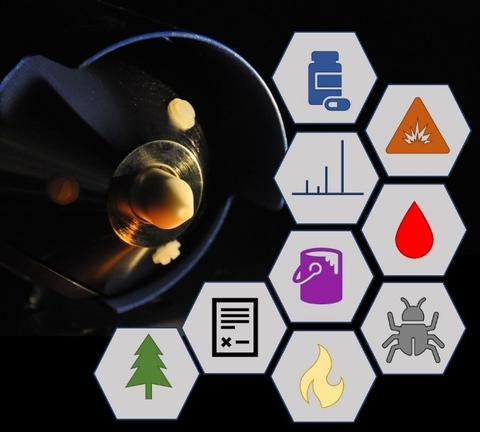 The development of methods, software tools, and resources for forensic laboratories using DART-MS or other AI-MS techniques is a collaborative effort between the Surface and Trace Chemical Analysis Group (STCAG), the Mass Spectrometry Data Center (MSDC), and practicing forensic laboratories across the country. These efforts are aimed at addressing many of the common roadblocks for adoption of new technologies by forensic laboratories including development of instrumental methods, validation procedures, workflows, spectral databases, and data analysis tools.  Through these efforts we aim to provide these key needs to the community.
*ANY MENTION OF COMMERCIAL PRODUCTS WITHIN NIST WEB PAGES IS FOR INFORMATION ONLY; IT DOES NOT IMPLY RECOMMENDATION OR ENDORSEMENT BY NIST.
Spectral Databases, Search Software, and Data Analysis Tools
While AI-MS techniques such as DART-MS are capable of rapidly analyzing samples, examining the resulting data can be time-consuming and cumbersome. Additionally, as with all mass spectrometry techniques, identification of compounds is often completed by comparing a sample mass spectrum to a library of known mass spectra. To assist forensic laboratories with these efforts, the development of a suite of data analysis tools is underway that will provide spectral databases, spectral searching, and other features.
The NIST/NIJ DART-MS Data Interpretation Tool (DIT) is the central component of this effort. The first version of the DIT was released in October 2021 and provides the ability to search one or more is-CID mass spectra against a spectral library. Reporting and library viewing capabilities are also included. The DIT is open source and vendor agnostic. As additional functionalities are built in, updates to the DIT will be made available. The DIT can be downloaded at https://doi.org/10.18434/mds2-2448.
To complement the DIT, the NIST DART-MS Forensics Database has also been created. The database is an evaluated collection of mass spectra of compounds of interest to the forensics community (e.g. seized drugs, cutting agents, etc.) collected either by NIST scientists or by collaborating laboratories.  The database, which is freely available and regularly updated, provides mass spectra for over 800 compounds. The database, which can be downloaded at https://chemdata.nist.gov/dokuwiki/doku.php?id=chemdata:dart-library, can used with NIST MS Search software or is available as a general-purpose structure data file (.SDF) (doi.org/10.18434/mds2-2313) or with the newly released DIT.
Methods for Analysis
Development of methods for the analysis of different sample types is often one of the first things that needs to occur with the implementation of a new technique.  To assist laboratories in these efforts, a suite of methods for the analysis of different compound and sample types has been, and continues to be, developed.  Methods for the detection of fentanyl and other opioids, explosives, rodenticides, and even alcoholic beverages have been established. These efforts also include development and investigation of modification to DART-MS, such as thermal desorption (TD)-DART-MS or infrared thermal desorption (IRTD)-DART-MS which can provide more reproducible, more sensitive analysis of a wider range of compounds of interest.
Method-related publications include:
Other Resources
To further assist in providing the tools necessary for technology adoption, other, more practical, resources are also being developed.  These resources include example documentation, such as validation plans and standard operating procedures, training resources, and publications that provide an overview of the technology, applications, and ongoing research.