Summary
NIST, the nation's reference lab for chemical measurements, helps crime labs and medical first responders rapidly detect and identify opioids, particularly new variations of the synthetic opioid, fentanyl, made to evade drug laws. NIST also administers the Organization of Scientific Area Committees for Forensic Science, chartered to strengthen the nation's use of forensic science by facilitating the development of technically sound forensic science standards and by promoting the adoption of those standards by the forensic science community. 
Description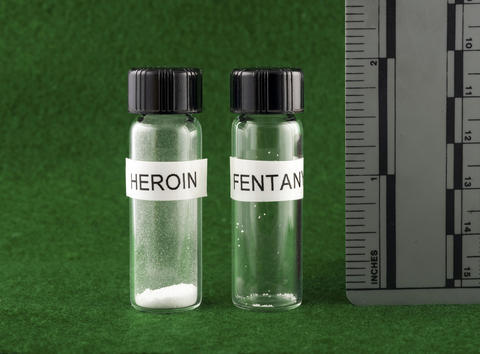 Safe Handling
Fentanyl can be 100 times stronger than heroin. Even deadly street drugs contain very small amounts of fentanyl, so it can be difficult to detect with methods used for other common drugs.
NIST researchers developed a method sensitive enough to detect fentanyl on the outside of drug packaging, preventing accidental exposures that might occur when containers are opened by first responders or lab technicians. Learn more (video).

The method employs technology commonly used by airport security personnel to detect trace amounts of explosives. A laboratory is not required: swabs of drug packaging can be tested at the scene of a crime or overdose.
A second, lab-based method developed at NIST for use with commonly found equipment can distinguish between different types of fentanyl.
NIST's findings and chemical signature data have been shared with manufacturers of screening instruments, who may expand their product lines to fentanyl detection. 

To help protect emergency medical technicians, crime lab analysts, postal safety inspectors, and others who might inadvertently contact fentanyl, NIST developed a method to measure fentanyl contamination in workspaces. The NIST data will inform guidelines on safe limits from the National Institute for Occupational Safety and Health.
NIST is working with U.S. Customs and Border Protection to develop a training aid so drug-sniffing dogs can learn to detect fentanyl without risk of accidental exposure to powerful opioids.
Detection and Identification
New types of fentanyl are made and sold faster than scientists can make reliable chemical fingerprints available to the law enforcement community. NIST speeds identification of new fentanyls.

The NIST Mass Spectral Library helps crime labs that use the analytical technique mass spectrometry to identify unknown substances with verified molecular "fingerprints" of more than 265,000 compounds, including 56 types of fentanyl. The library is included in the sale of many mass spectrometry instruments.
New types of fentanyl not yet in mass spectral databases can be quickly identified with a free software tool from NIST. Hybrid Similarity Search matches a new, unknown molecule to known fentanyl molecules that are similar, helping crime labs get a jump start on identifying drugs and working out their complete chemical signatures. 
NPS Data Hub is a crowd-sourced resource developed by NIST, the Drug Enforcement Agency, and the German federal police with chemical signatures for new drugs, including fentanyl. Contributors to the data hub are experienced analysts, so their chemical signatures for new drugs and other compounds can be rapidly shared with the community. 

NIST is working with the Maryland State Crime Lab to help them adopt new instruments that are as sensitive at detecting varieties of fentanyl as the toxicological tests used by medical examiners, so results from victims can be clearly correlated with the drugs on which they overdosed.
NIST is developing a reference material to help medical examiners reliably detect fentanyl and the compound that results when it is metabolized, norfentanyl, in human serum.