NVLAP Acoustical Testing Services LAP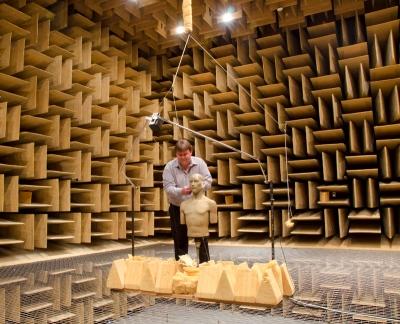 Randy Wagner, NIST PML, prepares a standardized manikin for hearing aid testing in the acoustics team's largest anechoic chamber. (Photo courtesy of Erik Secula)
Welcome
This site has been established for applicants to the accreditation program for acoustical testing services. On this site you will find important program information and links to documents required for successful participation in the program.
Program Description
This accreditation program is designed to satisfy the requirements of contractors, state and local governments, and federal agencies specifying accreditation for laboratories that conduct acoustical testing. Accreditation is available to any acoustical testing laboratory.
For information on the requirements of accreditation see NIST Handbook 150, which contains the requirements that are the basis for accreditation of any laboratory regardless of the discipline or area for which a lab seeks accreditation. In addition, acoustical testing laboratories must meet the program-specific requirements in NIST Handbook 150-8, NVLAP Acoustical Testing Services.
The NIST Handbook 150 Checklist and the NIST Handbook 150-8 Checklist are used by the assessor when performing the on-site assessment. In addition, NVLAP Lab Bulletins may be issued to expand the requirements or to provide clarity on existing requirements.
Proficiency Testing Requirements
There is no established proficiency testing program for the acoustical testing accreditation program. However, laboratories are required to participate in interlaboratory comparisons (ILCs) sponsored by standards organizations (ASTM International, ANSI, etc.) when the laboratory is accredited for the test method that is being used in the ILC.