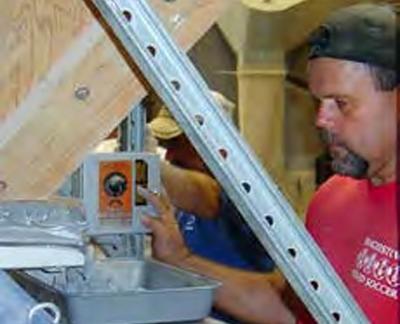 The Construction Materials Testing laboratory accreditation program (LAP) began in 1978 as the Concrete LAP. The program gradually expanded beyond concrete testing to include other testing areas such as admixtures, aggregates, cement, geotextiles, road and paving materials, soil and rock, and steel materials.
For information on the requirements of accreditation, see NIST Handbook 150 which contains the general requirements for accreditation of laboratories. In addition, NIST Handbook 150-5 contains specific requirements for construction materials testing laboratories.
---
Assessor Needed
NVLAP needs a construction materials testing assessor. The assessor must have a minimum of five years of experience in a construction materials testing lab. A candidate must be familiar with common test methods, usually ASTM, for concrete, cement, soils, paving materials, aggregates, as well as nondestructive testing methods. Familiarity with auditing and laboratory management systems is preferred. NVLAP assessors are contractors and perform between 4-6 assessments per year of 3-5 days each. Most assessments occur in the northeast US, but some international travel may be required. If interested, please contact the NVLAP Construction Materials Testing program manager, Tim Rasinski, timothy.rasinski [at] nist.gov.
---
Proficiency Testing Requirements
Laboratories seeking accreditation for cement, concrete, aggregates, soil or bituminous testing are required to participate in the CCRL/AASHTO proficiency sample programs. Individual participation in these programs is determined by the desired scope of accreditation. For example, laboratories applying for accreditation for concrete testing only, will need to participate only in the concrete proficiency sample program. Laboratories applying for accreditation for cement, concrete, aggregates, soil, and bituminous testing will need to participate in all five of these programs.
The proficiency sample program involves testing a sample material in accordance with the standard test methods specified. The test results are returned to either CCRL or AASHTO for statistical analysis. Group values such as average, standard deviation and the coefficient of variation are determined. Individual results are then compared with the group values and a rating for the specific test is assigned. The proficiency test results can be used for self-evaluation as well as being reviewed by NVLAP.
Requirements Documents
References and Information
Proficiency Sample Programs: