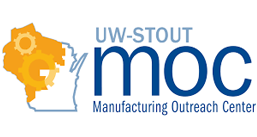 For more than two decades UW-Stout Manufacturing Outreach Center (MOC) has been working alongside small and mid-size manufacturers like you, leveraging our industry experience, tech savvy, and teamwork to improve your process, grow your business, enrich your people, and develop your product.
Whether we meet at UW-Stout or come right to your site, MOC will be at your side with reliable, informed answers and customized solutions to get the job done.
We're proud of the significant impacts and financial gains our clients see - often before the project is even closed. When you partner with UW-Stout MOC, the return on your investment is rapid and substantial. See what our clients say about the value of working with UW-Stout MOC.
Your manufacturing operation is one of a kind, so why settle for cookie cutter solutions to the challenges you face? Throughout 33 northwestern Wisconsin counties, we roll up our sleeves to deliver services tailored to your specific circumstances. From process improvement to strategic direction, workforce training to tech implementation and so much more, we have what it takes to navigate your singular path to success.