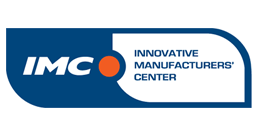 IMC, the Innovative Manufacturers' Center, helps Central Pennsylvania manufacturers tap into the most effective regional, state and national resources in order to innovate, grow and prosper.
A private-public partnership, IMC is dedicated to driving economic success and profitable growth for the 12 counties we serve and the entire state. Objective, expert advice and actionable solutions are available to small and medium sized manufacturers through IMC events and resources.
Since 1988, IMC has helped over 600 Pennsylvania companies become more innovative, productive and profitable. As one of the seven Industrial Resource Centers in Pennsylvania, IMC is an affiliate of the U.S. Department of Commerce, NIST Manufacturing Extension Partnership and is supported through the Pennsylvania Department of Community and Economic Development.
IMC provides high quality services to Central Pennsylvania manufacturers at an affordable cost. Contact us today to see how we can work together.