COMMONWEALTH OF PENNSYLVANIA
OFFICE OF THE GOVERNOR
HARRISBURG
THE GOVERNOR
GREETINGS:
It gives me great pleasure to extend my sincere congratulations to the National Institute of Standards and Technology (NIST) as you open the Hall of State Flags in celebration of your 100th Anniversary of service to the Commonwealth and nation.
Since its founding, the National Institute of Standards and Technology has strived for and maintained the very highest standards of excellence. As the federal government's first physical science research laboratory, your time-honored commitment to providing technical assistance to this nation is unquestionably worthy of honor.
As Governor of the Commonwealth of Pennsylvania, I would like to take this opportunity to personally thank and commend you for your dedicated efforts in developing national standards of commerce and helping businesses across the United States meet technological challenges.
On behalf of all Pennsylvanians, I extend my sincere congratulations as you celebrate this historic milestone and the opening of the Hall of State Flags. Best wishes for many years of continued service and success.
TOM RIDGE
Governor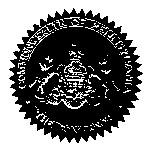 Notice of Online Archive: This page is no longer being updated and remains online for informational and historical purposes only. The information is accurate as of 2001. For questions about page contents, please

inquiries

[at]

nist.gov

(contact us)

.