NIST Technical Note 1483:  Measurements of Heat and Combustion Products in Reduced-Scale Ventilation-Limited Compartment Fires
A series of new reduced-scale compartment fire experiments were conducted, which included local measurements of temperature and species composition. The measurements are unique to the compartment fire literature. By design, the experiments provided a comprehensive and quantitative assessment of major and minor carbonaceous gaseous species and soot at two locations in the upper layer of fire in a 2/5 scale International Organization for Standards (ISO) 9705 room. The enclosure defined in the international standard ISO 9705 "Full-scale room test for surface products" is an important structure in which to conduct fire research. Many dozens of research projects and journal articles have focused on this enclosure and the standard describing its use. It is a common reference point for studies of many fire-related phenomena as well as fire modeling efforts.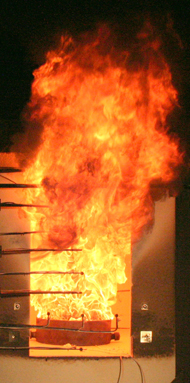 While some previous studies have considered the mixture fraction to analyze experimental compartment fire data, few have considered minor hydrocarbon species and none have considered soot. In tandem, accurate measurements of temperature at these same locations allowed analysis of thermal effects on species concentrations. A wide range of fuel types were considered, including aliphatic hydrocarbons (natural gas and heptane), aromatic hydrocarbons (toluene and polystyrene) and alcohols (methanol and ethanol).
Field models, such as the National Institute of Standards and Technology (NIST) Fire Dynamics Simulator (FDS), are widely used by fire protection engineers to predict fire growth and smoke transport for practical engineering applications. Field models numerically solve the conservation equations of mass, momentum and energy that govern low-speed, thermally-driven flows with an emphasis on smoke and heat transport from fires. All field models have strengths and weaknesses. Among the various assumptions used in the development of previous versions of FDS, all chemical species were tied to the mixture fraction state relations. A single mixture fraction variable cannot be used for the prediction of carbon monoxide and soot, and the yield of these species was prescribed in FDS 4, rather than predicted. In fact, the yield of these species is usually not constant, but a complex function of their time-temperature history. In practice, an engineer using FDS 4 would choose combustion product yields directly from literature values for well-ventilated burning, using data from a bench-scale apparatus. Using this approach, the carbon monoxide (CO) volume fraction for pool fire burning in an under-ventilated compartment can be underestimated by as much as a factor of ten. A new version of FDS (version 5) is currently being tested which implements a predictive model of CO production. The experimental results provided in this report are the first step of a long-term NIST project to generate the data necessary to test our understanding of fire phenomena in enclosures and to guide the development and validation of field models by providing high quality experimental data.
The experimental plan was designed in cooperation with developers of the NIST FDS model to assure that the measurements would be of maximum value. Advanced development of FDS and other field models is extremely important, since it will lead to improved accuracy in the prediction of underventilated burning, typical of fire conditions that occur in structures. Improving models for under-ventilated burning will foster improved prediction of important life safety and fire dynamic phenomena, including fire spread, backdraft, flashover, and egress (involving the presence of toxic gases and smoke), which are critically important for application of fire models for fire safety. In summary, the main objective of this project is to provide an improved understanding of the physics, chemistry, and structure of underventilated compartment fires, and to provide experimental measurements to guide the development of fire chemistry sub-models.
Final Report
NIST Technical Note 1483 - "Measurements of Heat and Combustion Products in Reduced-Scale Ventilation-Limited Compartment Fires", July 2007
Selected photographs from the tests
Data
Test 1, Natural Gas
Test 2, Natural Gas
Test 3, Natural Gas
Test 4, Heptane
Test 5, Heptane
Test 6, Natural Gas
Test 6.5, Natural Gas
Test 7, Heptane
Test 8, Methanol
Test 9, Ethanol
Test 10, Toluene
Test 11, Ethanol
Test 12, Methanol
Test 13, Polystyrene
Test 14, Polystyrene
Test 15, Heptane
Test 16, Polystyrene