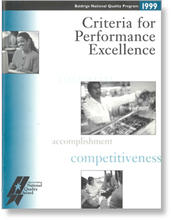 It was exactly two decades ago (1999) that the concept of
innovation
was first introduced into the Baldrige Criteria for Performance Excellence.
In those Criteria, we asked one simple question related to innovation:
How do senior leaders establish and reinforce an environment for empowerment and innovation?
The Criteria have evolved significantly in the intervening twenty years, including significantly greater emphasis on innovation, starting with the addition of Managing for Innovation as a core value in 2000. The current Baldrige definition of innovation has not changed significantly since 2005. The definition in the 2019-2020 Baldrige Excellence Framework and the 2019-2020 Baldrige Excellence Builder Glossary is:
Making meaningful change to improve products, processes, or organizational effectiveness and create new value for stakeholders. The outcome of innovation is a discontinuous or breakthrough change.
Is the Definition Still Appropriate?
Readings over the last few years and observations of people's behaviors and organizational strategy lead me to believe that this definition is no longer sufficient. Let me share some data.
From a recent article in Deloitte Insights based on their 2018 Global Human Capital Trends study, "Stakeholders today are taking an intense look at organizations' impact on society, and their expectations for good corporate citizenship are rising. In an effort to meet these expectations, leading organizations are making citizenship a core part of their strategy and identity." Deloitte concludes that corporate citizenship is now a CEO-level business strategy. Furthermore, a lack of commitment to societal responsibility can quickly damage a company's reputation, sales and its ability to attract workers.
Millennials currently comprise more than half the workforce in many countries. According to a 2017 Deloitte study, 88% of millennials believe their employers should play a vital role in addressing societal issues such as income inequality, hunger, and the environment.
According to a 2015 article in Fast Company, "Millennials want to work at organizations that focus on purpose, not just profit."
From a 2015 Deloitte survey of 7,800 millennials representing 29 countries, "millennials believe companies should spend less time on short-term roles and more time on broadly building contributions to society..."
A 2012 meta-study published in Scholarship@Claremont found a direct correlation between CSR (corporate social responsibility) ranking and profitability.
A 2007 longitudinal study (published in a book entitled Firms of Endearment) of purpose-focused companies found that they outperformed their S&P 500 peers by a factor of eight.
Consider this Update to the Definition
I believe societal well-being is now another key outcome of innovation and should be reflected in the definition of the term. I propose considering the following updated definition:
Making meaningful change to improve products, processes, organizational effectiveness, or societal well-being. The outcome of innovation is a discontinuous or breakthrough change that results in new value for stakeholders.
While the change in wording is minimal, the potential impact is very significant. Let me know what you think!
---

Baldrige Excellence Framework
The Baldrige Excellence Framework has empowered organizations to accomplish their missions, improve results, and become more competitive. It includes the Criteria for Performance Excellence, core values and concepts, and guidelines for evaluating your processes and results.
Available versions: Business/Nonprofit, Education, and Health Care
---