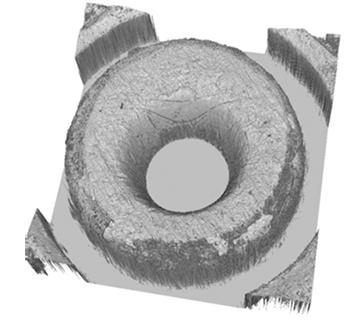 Surface topography affects the functionality of manufactured parts. To control surface topography, industry requires increasingly advanced measurement methods.
The project provides best-in-class calibrations, SRMs, and reference software for surface roughness, step height, and microform. The SI-traceability of most topography measurements in the U.S. relies on this service.
We provide surface and microform calibrations with uncertainty levels that are among the world's best. We lead the development of documentary standards, and conduct research to provide a sound basis for optical measurement methods.
We provide an interactive website, the Surface Metrology Algorithm Testing System (SMATS), for quantitative assessment of surface topography software. The user can download or upload surface profiles and topography images and compare our calculated parameter values with those obtained by the user's software.
Forensic firearm and toolmark identification is based on comparing the surface topography of forensic samples, such as fired bullets and ejected cartridge cases. The examiner typically must determine whether microscopic marks on compared surfaces were made by the same firearm or tool. This determination is challenging, not only because there are differences between marks generated by the same firearm, but also because there are possible similarities between marks generated by different firearms. There is a fundamental need in forensics for objective, quantitative methods to evaluate the similarity between evidence and reference surfaces so that objective decisions about common origin can be made with uncertainty statements. Therefore:
We conduct research to provide a scientific foundation for forensic identification. Our focus is on metrics and algorithms for objective identification, and on rigorous methods to estimate the uncertainty (or error rate) of a forensic conclusion.
We collaborate on the characterization and improvement of measurement techniques and on documentary standards for measurement quality assurance. NIST SRM 2460 Standard Bullets and SRM 2461 Standard Cartridge Cases are used in both U.S. and foreign crime labs for quality control. We provide a crowd-sourced, open-access, research database of firearm toolmarks on bullets and cartridge cases. The database contains both traditional reflected light microscopy images and three-dimensional surface topography data. The data is used internationally for the development and validation of methods for objective identification and error rate estimation.