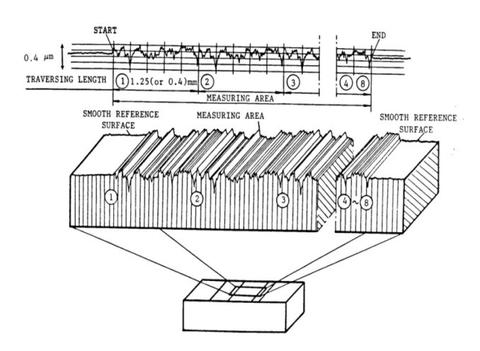 Surface texture and microform
Surface texture affects the functionality of many products, ranging from bearings to semiconductors and optics. Affected properties include aesthetics, friction, wear, lubrication, sealing, light scattering, and conductivity. Improvements in parameters and metrology to characterize surface texture enable innovations and facilitate commerce. Major challenges are the large variety of applications, the large number of parameters available to specify and characterize surface texture, and the large array of mechanical and optical measurement techniques. The project seeks to advance SI-traceable metrology of surface texture and microform through:
Best-in-class, highly leveraged, calibrations of transfer standards for surface roughness, step height, lateral spacing, and microform. We furthermore provide SRMs for instrument calibration and quality control. Millions of surface topography measurements in the U.S. are SI-traceable through these calibrations and SRMs.

Leadership in the development of national and international documentary standards. These standards provide definitions and procedures for surface texture specification, topography measurement, instrument calibration, and measurement uncertainty evaluation.
Reference software and datasets for validating the values of surface texture parameters calculated by surface analysis software. We provide an interactive website, the Surface Metrology Algorithm Testing System (SMATS), that enables the user to compare our calculated parameter values with those obtained by the user's software.
Parameters and calibrations for the microform of standard hardness Rockwell-C (HRC) diamond indenters. Our world-leading low measurement uncertainty benefits the calibration of hundreds of NIST SRM 2810-2812 HRC hardness standard blocks.
Firearm and toolmark examination
Forensic firearm and toolmark examination is based on comparing the surface topography of forensic samples, such as fired bullets and ejected cartridge cases. When a firearm is fired, it leaves microscopic toolmarks on the bullet and cartridge case. Forensic examiners compare these marks to determine whether two cartridge cases or bullets were fired from the same firearm. Currently, this evaluation is subjective, relying on an examiner's expertise and judgement. The evaluation is challenging, not only because there are differences between marks generated by the same firearm, but also because there are possible similarities between marks generated by different firearms. There are two major shifts occurring in this forensic area: 1) a transition from two-dimensional (2D) reflectance microcopy images of toolmarks to three-dimensional (3D) topography images, and 2) a desired transition from subjective match/no-match assessments to objective comparisons with a rigorous evaluation of uncertainty to quantify the weight of evidence. We address these challenges through:
Characterization and improvement of measurement techniques, and the development of standards and best practice guides for measurement quality assurance in forensic labs. Many forensic labs use the NIST SRM 2460 Standard Bullet and SRM 2461 Standard Cartridge Case for for quality control.
Research to improve the scientific foundation for firearm and toolmark examination. Our focus is on metrics and algorithms for objective comparisons, and on statistical methods to quantify the weight of evidence.
Reference and research databases of firearm toolmark images of bullets and cartridge cases. The databases are needed for the development and validation of methods for objective identification and the development of statistical models for weight of evidence estimation.