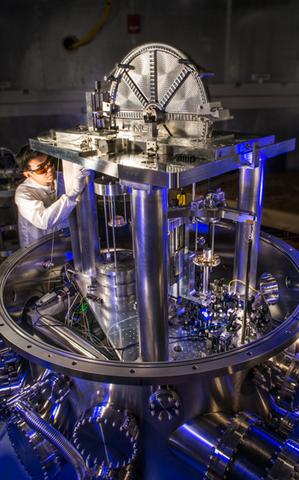 At NIST we have worked with watt balances since 1980. During the past 35 years we have operated three different watt balances with the goal of measuring the Planck constant. Currently we are building a fourth version that will be used to realize the unit of mass in the US. The photo to the right shows this new watt balance, named NIST-4, during construction.
In 2013, measurements with NIST-3 came to an end with a final determination of the Planck constant. For the final number we obtained
h=6.626 06979(30)× 10-34 Js 
The relative standard uncertainty of this number is 45 x 10-9. The result agrees within two standard deviations with measurements from NRC Canada and the International Avogadro Coordination. This is remarkable, since all three experiments are very different. The NRC watt balance uses a permanent magnet in their watt balance, but NIST-3 has a superconducting magnet system.