Realization
Since the redefinition of the kilogram, the Mass and Force Group has been intricately involved with the NIST realization of mass via the Kibble balance. By maintaining traceability to the International Prototype Kilogram (IPK) via the 2019 calibration of NIST National Prototype K20, the group has been able to accurately monitor K79 in air and K85 in vacuum, which were used during the international Key Comparison for determining the consensus value (CV) of the kilogram. On February 1, 2021, the world's mass scale officially became traceable to the CV. To read more about this key comparison and dissemination process see the links at the bottom of this page.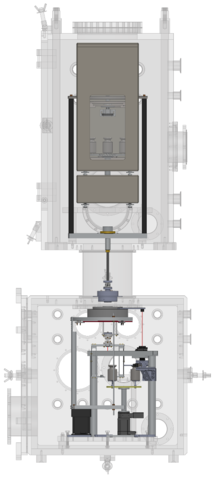 Dissemination
The mise en pratique consists of the realization of the new kilogram in the NIST Watt Balance, transfer of the realization to air, dissemination to the U.S. Measurement System, and storage of the Kibble Balance realized kilogram in a vacuum environment. The realization can be transferred to other artifacts using a precision mass comparator (which also operates under high vacuum) or using a specially-designed instrument that enables direct comparison of a mass in vacuum to a mass in air using a magnetic suspension technique.
Storing a Mass Realization
The NIST-4 Kibble balance is used to realize mass infrequently due to the operational complexity. Therefore, storing a mass realization and monitoring its mass evolution is critical for accurate dissemination. NIST has created an ensemble or "pool" of kilogram artifacts, consisting of Platinum-Iridium and stainless-steel standards to act as a "flywheel" for the kilogram in between Kibble balance realizations. Half of the ensemble are stored in high vacuum chamber and the other half are stored in laboratory air. A kilogram artifact that is used in the NIST-4 Kibble balance to realize mass never leaves a high vacuum environment. Instead, a Mass Transfer Vehicle is used to retrieve the artifact from the Kibble balance and then transport it to the vacuum storage chamber. The kilogram used for mass realization in the Kibble balance can subsequently be used to transfer the realization to other artifacts by using the high precision vacuum mass comparator. This process can be repeated periodically to monitor the evolution of the realization mass. A vacuum-to-air transfer process or the magnetic suspension instrument described above can be used to transfer the realization to working standards in air.