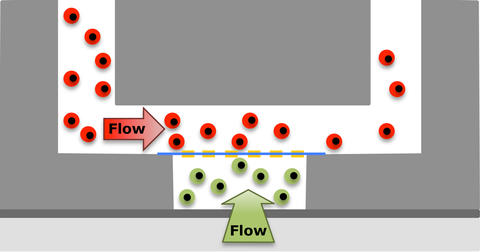 We apply our expertise in micro/nanofabrication, electrokinetics and cell-based assays to develop bioelectronic sensors in microfluidic platforms. We are working on a platform that entraps cells for electrochemical monitoring in an environment that has mechanical properties more similar to those experienced by the cells in vivo. We will employ impedance measurements to determine cell migration characteristics of cancer cells in a 3D model system, and bioelectric activity of cardiac cells under induced stress conditions. Current efforts in our lab have produced a platform with electrodes on a porous membrane for dielectrophoretic trapping as well as impedance measurements of cell migration. Development of these organ-on-a-chip devices with embedded electronic capabilities will provide tools to help develop regenerative medicine approaches and cell-based diagnostics for heart disease and cancer.
Research Opportunities
NRC/NIST Postdoctoral Fellowship
2-year fellowship
Sponsored by the National Research Council
Application requires an original research proposal
Application deadlines:  February 1 and August 1
Stipend - $ 72,030/year; Travel Allotment - $3,000; Other benefits
Application deadlines are Feb. 1 and Aug. 1 of each year
US citizenship required
 Please contact Dr. Darwin R. Reyes at darwin.reyes [at] nist.gov if interested in applying for this fellowship.
Selected Publications
S. Minnikanti, J.J. Ahn, Y. Obeng and D.R. Reyes, Generating Multiscale Gold Nanostructures on Glass without Sidewall Deposits Using Minimal Dry Etching Steps, ACS Nano 2019, 13, 3924-3930.
M. Ibo, L. Motabar, K. Bhadriraju, D. R. Reyes, Microfabrication of a 3D, Elastic Cell Microenvironment with Nanoscale Precision Using Layer-by- Layer Deposition, In Proceedings of Micro Total Analysis Systems 2017, 1517–1518.