Electrical Engineer
Employment
2013 - Present: Electrical Engineer, Biosystems and Biomaterials Division
2011 - 2013: NRC Postdoc, Biosystems and Biomaterials Division, NIST
Education
2005-2011: Ph.D. Georgia Institute of Technology, Electrical Engineering (Optics and Photonics)
2003-2005: M.S. University of Maryland, Electrical Engineering (Electrophysics)
1999-2003: B.S. University of Maryland, Electrical Engineering
Research Interests
My research interests lie at the intersection of science and engineering in developing and applying advanced optical techniques towards the analysis of chemical and biological specimens. Over the last decade, the availability of high-performance, high-speed lasers and detectors has greatly expanded; thus, offering exciting possibilities towards developing new optical modalities for studying light-matter interactions and to further apply these techniques towards real-world biological and medical problems. My specific interests encompass a variety of topics, such as:
 
Chemically-specific and functional microscopy modalities using such techniques as broadband coherent anti-Stokes Raman scattering (BCARS), multiplex stimulated Raman scattering (SRS), and Brillouin scattering
Multivariate and N-way numerical techniques to prepare, denoise, reduce, and analyze multidimensional hyperspectral data
Protocols and methods to quantify information distilled from hyperspectral imagery (both inter-sample and intra-sample, and from different instruments)
Hyperspectral data visualization
Applications of microspectroscopy (microscopy + spectroscopy) to medicine and biology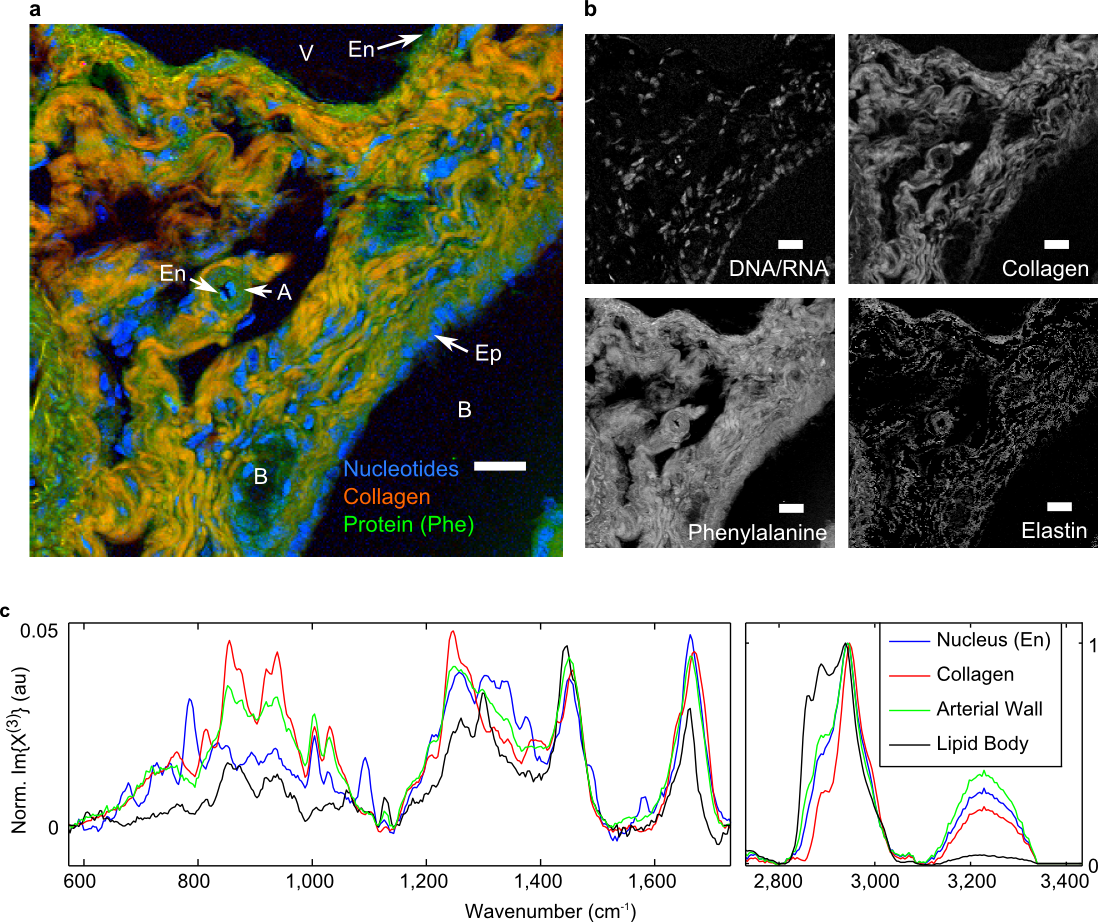 Credit: 
Charles Camp/NIST
For prospective post-doctoral fellows
Post-doctoral fellowships are available through the National Research Council (NRC) Research Associateship Program (RAP-- http://sites.nationalacademies.org/pga/rap/). The Biomaterials group is constantly updating the list of Research Opportunities. We are a very interdisciplinary group composed of chemists, chemical engineers, biomedical engineers, electrical engineers, biologists, physicists, and more. We are looking for prospective postdocs with the following background: 
Optics and photonics (spectroscopy, nonlinear optics/spectroscopy, hyperspectral imaging) 
Applied mathematics or signal processing (multivariate analysis/chemometrics, N-way math, statistics, data visualization) 
Optical detectors (NIR and IR, high-speed integrated detectors with active electronics on-board) 
Expertise with LabView and MATLAB
Competency in C/C++, Python, CUDA, and/or FPGA programming a plus. Experience with cell culture, histological sample prep, and staining (fluorescence or absorptive [e.g., H&E]) a plus as well
The application process is highly competitive with application deadlines February 1 and August 1. Your submitted application package will include:
Research proposal (10 pages, max)
4 references
Transcripts (from all institutions)
About the NRC-RAP program at NIST: 
2-year fellowship (as a Federal employee)
Stipend $66,256, full benefits, and relocation expenses
US Citizens only
For more information see: http://sites.nationalacademies.org/PGA/RAP/index.htm 
A helpful flowchart on the application process: http://sites.nationalacademies.org/PGA/cs/groups/pgasite/documents/webpage/pga_063281.pdf 
N.B.: NIST administrates its own NRC-RAP fellows; thus, there are some differences between the benefits and process for NRC fellows at NIST and other institutions. These differences are highlighted throughout the RAP program webpages. For further information, feel free to contact me.
Selected Publications
C. H. Camp Jr, Y. J. Lee, J. M. Heddleston, C. M. Hartshorn, A. R. Hight Walker, J. N. Rich, J. D. Lathia, and M. T. Cicerone, "High-speed coherent Raman fingerprint imaging of biological tissues," Nature Photonics 8, 627-634 (2014).
Publications