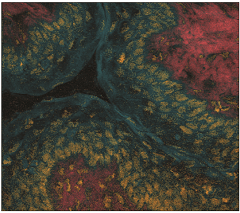 Impact
There is a need for label-free chemical microscopy in medicine, biology and materials science. Most of the current methods use chemical labels that often disturb the distribution and nature of chemical components being investigated. The method we are developing enables noninvasive and rapid collection of Raman spectra for imaging.
BCARS can be used to track cell signaling processes and can provide functional readouts of cell differentiation, allowing researchers to obtain cell responses to biomaterials in real time and on a cell-by-cell basis.
BCARS can be used to acquire high-resolution chemical maps of pharmaceutical tablets, including information on morphology of active ingredients, 10 to 100 times faster than spontaneous Raman scattering.
All researchers who use Raman imaging methods will benefit from our work, including biomedical researchers (and, potentially, clinicians), pharmaceutical industry scientists, geologists and others. Additionally, laser manufacturers have been influenced by our work; PolarOnyx, Toptica, Time-Bandwidth and Spectra Physics Laser have all developed and are marketing laser sources to enable BCARS.
Approach
CARS provides a signal that contains the Raman response of interest for performing label-free chemically sensitive microscopy. In CARS, a vibrational coherence is generated when a pair of photons (pump and Stokes) interact with the sample to excite a vibrationally resonant Raman mode at frequency ωvib = ωpump – ωStokes. A third (probe) photon is inelastically scattered off this coherent excitation, and anti-Stokes light (ωas = ωpump – ωStokes + ωprobe) is emitted from the sample.
The CARS signal has a frequency-independent non-resonant component and a frequency-dependent resonant component. The non-resonant component is entirely in phase with the driving field of the laser and gives us no information about the chemical nature of the sample. The resonant component contains the chemical information and has a frequency-dependent amplitude. It is out of phase with respect to the driving electric field of the laser. The resonant component contains elements with the same bandshape as the spontaneous Raman signal.
We obtain a broadband vibrational spectrum at each laser shot by using broadband Stokes light. The Stokes light contains 3000 cm-1 of bandwidth.