Office of Financial Resource Management
The Mission of the Office of Financial Resource Management (OFRM) is to increase the value of NIST and Commerce resources. By increasing the value of NIST resources we are supporting the NIST Operating Units in their quest to promote U.S. innovation and industrial competitiveness. By increasing the value of Commerce resources we are supporting our customer agencies in the fulfillment of their missions.
The Office of Financial Resource Management (OFRM) directs and manages the overall budget and financial management activities relating to the programs and operations of NIST, as well as client bureaus serviced by NIST. This includes the development of financial management policies and procedures, financial reporting, and financial internal controls, which comply with all applicable DoC, OMB, Treasury and FASB regulations, policies, and requirements.
Our Values
Accountability - We constantly measure our results against our commitments as individuals and members of the team.
Innovation - We consistently try to find new and better ways of reaching our goals and objectives. We learn from our failures as well as our successes.
Integrity - We are straightforward, honest and open.
Respect - We respect our customers and each other, because it is simply the right thing to do.
Teamwork - We can rely on one another to support our common goals and strive for outcomes that benefit our customers and ourselves.
Chief Financial Officer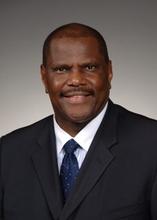 Mr. George Jenkins is the Chief Financial Officer (CFO) for the National Institute of Standards and Technology (NIST). His role includes budget formulation and execution, financial management, internal controls management, policy development and enterprise risk management activities.
News
Contact
Office of Financial Resource Management

Phone:

(301) 975-2452

Fax:

(301) 975-4160

100 Bureau Drive, M/S 1600

Gaithersburg

,

MD

20899-1600