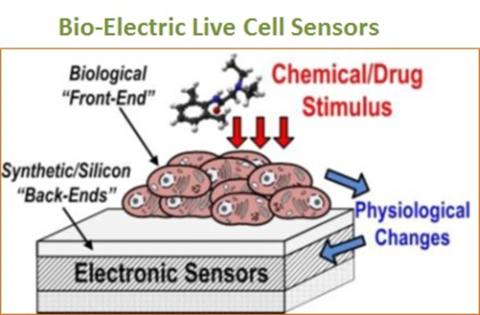 Goal: To broaden a consortium and develop a roadmap to advance U.S. leadership in the technology development and manufacturing of semiconductors, including hybrid bio-semiconductor systems, that leverage the significant energy-efficiency and processing advantages of biological systems.
Background:  The semiconductor industry is crucial to U.S. economic and national security. But the domestic industry faces two major challenges. One is the ever-increasing technical difficulty and cost of continuing to develop and manufacture conventional silicon semiconductors. The technology is approaching fundamental physical limits, and the cost of both R&D and equipment production is rising sharply. The other is the development of state-of-the-art manufacturing capabilities overseas, particularly in Asia, much of which is driven by government policies and funding aimed at promoting their industries.
This makes it critical that the United States lead in developing transformative, leap-frog alternatives such as Semiconductor Synthetic Biology (SemiSynBio). Because such development will likely require a research horizon beyond the 10-year time frame traditional in the semiconductor industry, the roadmap looks out to 15 years.
Approach:  With AMTech funding, the Semiconductor Research Corporation, along with 11 companies, experts from top universities, and the Office of Naval Research, broadened the consortium they established to advance U.S. SemiSynBio capabilities, and developed a roadmap to take the technology from basic research to commercial production. The objectives of the project were to identify and assess:
Development of transformative SemiSynBio platform technologies
Development of new manufacturing processes
Translation of these advances into commercial reality in the United States
Technology working groups identified technology targets and goals, assessed the state of each technology area, identified challenges and barriers to advanced manufacturing, and defined quantitative objectives and metrics of progress and prioritized research needs.
Outcome:  SemiSynBio combines synthetic biology and traditional semiconductor technology to build a new type of semiconductor technology with significant advantages of energy efficiency and processing power. The technology roadmap was released and has the potential to fundamentally redefine semiconductor design, manufacturing, and the supply chain.
Lead: Semiconductor Research Corporation
Funded Participants: None
Award Number: 70NANB15H064
Federal Funding: $500,000
Project Duration: 24 months
AMTech Project Manager: Thomas R. Lettieri
More information:  www.src.org