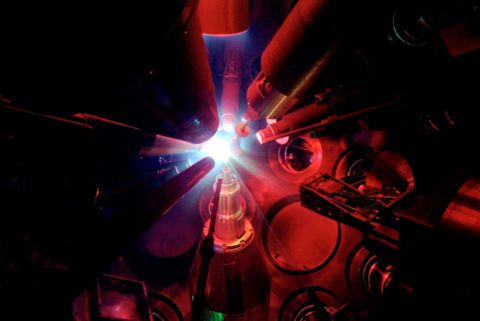 Goal: Develop technology roadmaps for the photonics industry in the Rochester, New York region and lay the groundwork for a national institute dedicated to advancing and diffusing photonics-based manufacturing technologies.
Background:  Optics and photonics are technologies that use light to solve practical problems.  Fiber optics, lasers, digital imaging, and flat panel displays are just some of the optics/photonics products invented in the U.S.  The U.S. has historically been a world leader in developing these technologies.  However, the nation's share of photonics manufacturing has dropped significantly, falling to only 10 percent of all photonics components sold worldwide.
There is an opportunity to take the lead in developing advanced manufacturing technologies that both enable and leverage photonics technologies. For example, optoelectronic devices that are now assembled by hand in other parts of the world can be manufactured competitively in the U.S. by developing the ability to integrate photonic devices with electronic circuitry.
Approach:  The Center for Emerging and Innovative Sciences at the University of Rochester and its partners, including leading U.S. optics and photonics manufacturers, worked to develop a National Technology Roadmap for Photonics.  The roadmap focused mainly on the Rochester region, a key region in the U.S. for optics/photonics manufacturing, and had three main goals: 1. support the National Photonics Initiative to develop a national roadmap for photonics manufacturing; 2. establish a consortium to develop optics, photonics, and imaging manufacturing technology; and 3. develop an implementation roadmap to grow photonics manufacturing in the state and fully utilize the region's human resources and manufacturing infrastructure for the industry.
Outcome:  Early groundwork from this effort led to the establishment of AIM Photonics, the Manufacturing USA® institute for integrated photonics.  New York State provided $250M in matching funds to locate the institute headquarters in the state.
The National Technology Roadmap for Photonics helped to establish a major photonics manufacturing consortium in Rochester, set the stage for the establishment of three additional photonics consortia, and developed the New York Photonics Manufacturing Roadmap for advancing photonics manufacturing in New York State and the Rochester region. 
The roadmap identifies and addresses six key areas of optics/photonics important to the Rochester region:  optics, imaging, biomedical photonics, displays, optoelectronics, and lasers.  Key recommendations include: solidify the base in optics manufacturing in the Rochester region by investing in advanced optics manufacturing technologies, such as freeform optics, infrared optics, and gradient index optics; establish AmeriCOM, a consortium for optics manufacturing; leverage the state and federal investments to attract, grow, and incubate companies in the optoelectronics industry; expand photonics systems manufacturing with a focus on emerging imaging technologies such as virtual reality, augmented reality, drone imaging, 3D imaging, autonomous vehicles, new gaming platforms, cinema technologies, flexible displays, and the internet of things; leverage work at New York universities; and promote industry/university collaboration and technology transfer. 
Lead: University of Rochester, Center for Emerging and Innovative Sciences
Funded Participants: New York Photonics (Rochester, NY); Rochester Institute of Technology (Rochester, NY)
Award Number:  70NANB14H054
Federal Funding:  $498,430
Project Duration:  36 months
AMTech Project Manager:  Thomas R. Lettieri
More information:  https://www.ceis.rochester.edu/