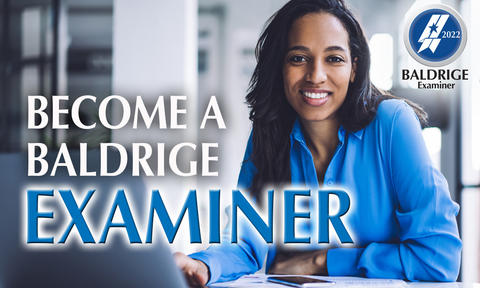 The Baldrige Performance Excellence Program® (BPEP) is seeking applicants for the Malcolm Baldrige National Quality Award® Board of Examiners for the 2022 award cycle.
The Examiner Application is now available online and will be open until 6:00 pm ET on January 10.
Baldrige examiners are part of an elite group of more than 400 professionals from around the United States. These experts give their time generously and enthusiastically to the Baldrige Program by utilizing the Baldrige Excellence Framework® to evaluate organizations that are applying for the Malcolm Baldrige National Quality Award and to provide carefully crafted feedback to help these organizations improve.
The program accepts award applications from manufacturing, service, small business, education, health care, and nonprofit organizations; therefore, coverage and balance within these sectors are important factors in selecting examiners. Learn more about the qualifications and sector needs for the 2022 Board.
Examiners are also selected based on knowledge of the Baldrige Excellence Framework and its Criteria for Performance Excellence®, industry expertise, good oral and written communication, and other attributes.
Serving as a Baldrige examiner is an opportunity for personal and professional development and growth. Examiners make a major contribution to the national effort to recognize and promote performance excellence, and they benefit from an unparalleled networking and educational experience.
Examiners will participate in virtual training focused on the Baldrige Framework and Criteria for Performance Excellence and their role in the Baldrige Award process.
Learn more about the role of Baldrige Examiners, which includes 150+ hours in the evaluation of an actual Baldrige Award applicant, and may include a site visit review. Read testimonials of why others serve as Baldrige examiners.  
The application for appointment to the 2022 Malcolm Baldrige National Quality Award Board of Examiners will close Monday, January 10, 2022, at 6:00 p.m. ET. Contact examappl [at] nist.gov for more information.