The Engineering Laboratory at NIST, Gaithersburg, will be hosting its second annual symposium, August 7-8, 2019, featuring the Disaster Resilience Grant Research Program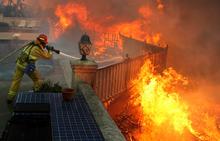 Credit: 
Dept. of Homeland Security Science & Technology Directorate
recipients
. Of the original 172 disaster resilience research proposals 12 were awarded totaling just over $6 million. Additionally, the 2018 Disaster Resilience Grant Research Program review process is currently underway and we hope to make the announcement of successful applicants in the near future. 
As in the previous symposium recipients will convene to share insights and findings based on the research topics funded under the 2016-NIST-DR-01. Recipients will present their research and findings from the first two years of their awards from topics that include Disaster and Failure Studies, National Earthquake Hazards Reduction Program, Wind Impact Reduction, and Reduced Ignition of Building Components in Wildland-Urban Interface (WUI) Fires Project. Additionally, NIST researchers will present their work that supports advancement in U.S. Disaster Resilience. 
---
KEYNOTE August 7th: 
Building a Resilient Society in Response to Wildfires
This talk will give an overview of what can be done to overcome the challenges that our societies face in front of the growing threat posed by wildland fires, with an emphasis on the issue of the Wildland-Urban Interface (WUI). After defining the numerous challenges that we all face and their roots, the different ways to address the problem will be presented. Finally, an overview of some of the research that can be developed to support solutions will be provided, with an emphasis on the research conducted at WPI, in collaboration with its partners from government agencies and other universities.
Professor Albert Simeoni



Professor Albert Simeoni is the Department Head of Fire Protection Engineering at Worcester Polytechnic Institute. He holds a Bachelor's Degree in Physics and Applications from the University of Corsica in France (1994), a Master's Degree in Mechanical Engineering from the university of Aix-Marseille in France (1996), and a Ph.D. in Physics, from the University of Corsica in France (2000).
He is an internationally recognized expert in fire and wildland fire and fire science with over 120 journal papers, conference papers, and book chapters. He has more than 20 years of experience developing experimental, analytical, and numerical techniques to better understand fire dynamics and to predict fire and wildland fire behavior. Before joining WPI, he held academic leadership positions in fire research in the UK (university of Edinburgh) and in France (university of Corsica). He has also experience as a consultant in fire science in the US and has spent over 10 years volunteering and working as a firefighter in France. Starting as a volunteer firefighter, he ultimately led all aspects of fire, wildland fire, and rescue operations, in the capacity of Chief of Fire Station. He is Associate Editor of the International Journal of Wildland Fire, a principal member of the NFPA Technical Committees on Wildland Fire Management and on Wildland and Rural Fire Protection, a member of the NFPA 921 subcommittee on Wildland Fire Investigation, and the treasurer of the International Association of Wildland Fire.
KEYNOTE August 8th: 
Dr. James Harris, President, J. R. Harris & Company, Denver, CO.  Additional details coming soon.
---
Archive:
2018 Disaster Resilience Symposium: Thank you to everyone who participated in the symposium.  Presentation videos for the 2018 Disaster Resilience Symposium Presentation Gallery. See the 2016-NIST-DR-01 for details about the previous Notice of Funding Opportunity.