The Engineering Laboratory at NIST, Gaithersburg, will be hosting its second annual symposium, August 7-8, 2019, featuring the Disaster Resilience Grant Research Program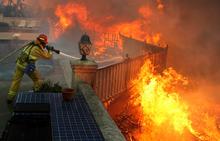 Credit: 
Dept. of Homeland Security Science & Technology Directorate
recipients
. Of the original 172 disaster resilience research proposals 12 were awarded totaling just over $6 million. Additionally, the 2018 Disaster Resilience Grant Research Program review process is currently underway and we hope to make the announcement of successful applicants in the near future. 
As in the previous symposium recipients will convene to share insights and findings based on the research topics funded under the 2016-NIST-DR-01. Recipients will present their research and findings from the first two years of their awards from topics that include Disaster and Failure Studies, National Earthquake Hazards Reduction Program, Wind Impact Reduction, and Reduced Ignition of Building Components in Wildland-Urban Interface (WUI) Fires Project. Additionally, NIST researchers will present their work that supports advancement in U.S. Disaster Resilience. 
---
UPDATE:
 5/9/2019
We are pleased to announce keynote presentations by Prof. Albert Simeoni of Worcester Polytechnic Institute and Dr. James Harris of J.R. Harris and Company.  Details on these presentations coming soon. 
---
Archive:
2018 Disaster Resilience Symposium: Thank you to everyone who participated in the symposium.  Presentation videos for the 2018 Disaster Resilience Symposium Presentation Gallery. See the 2016-NIST-DR-01 for details about the previous Notice of Funding Opportunity.