This course is supported by the Center for High Resolution Neutron Scattering, a partnership between NSF and NIST.

Important information for the registration: 
Announcement (08/30/2021)
All registered students should have received a welcome email and the first email about the first class of this course on Sep. 1, 2021. If you did not receive any email and believe that you have registered for this course, please contact Dr. Yun Liu immediately.
Announcement (08/13/2021)
Due to the overwhelmingly large number of registrations, we are very sorry that we have to close the registration for people outside of USA after August 15 .
The registration will remain open for the following groups before the deadline or until it reaches the capacity of the course.
1) Scientists in US companies; 2) Students/postdocs from US based universities/research institutes interested in registering for this course for credit.
Please contact Dr. Yun Liu (yun.liu [at] nist.gov) to learn how to register for the course after August 15.
Registration deadline: August 31, 2021
Lectures:
Twice per week. Each lecture lasts 1h 15m.
Time: Wed/Fri 1:25pm – 2:40pm (US ET)
Lecture format: Online teaching.
Planned first lecture date : Sep. 1, 2021.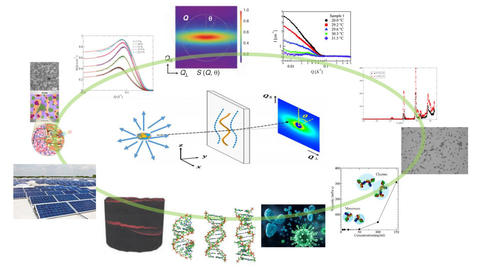 ​
Soft matter materials, such as proteins, DNA, and polymers, play important roles in our daily life. And understanding their structure and dynamics is the key to predict and control the material properties. This course covers the applications of neutron scattering techniques to probe the structure of soft matter materials from a few Ångstroms to microns, and the dynamics from picoseconds to seconds. We intend to discuss fundamental concepts of neutron scattering, small angle neutron scattering (SANS), neutron reflectometry, quasielastic neutron scattering (QENS), and neutron spin echo (NSE). The focuses are to introduce the relevant neutron scattering theories to interpret neutron scattering data of soft matter materials, and explain the physical design of some neutron instruments useful for planning an efficient neutron scattering experiment. Some commonly used software, including SASView, will be introduced too.
Principle Instructor
Physicist, Center for Neutron Research, National Institute of Standards and Technology, MD
Affiliated Faculty, Chemical & Biomolecular Engineering Department, Physics & Astronomy Department, University of Delaware
Phone: (301) 975-6235
Email: yunliu [at] nist.gov or yunliu [at] udel.edu
Office hours are available before or after each lecture, and/or through a teleconference meeting.
​