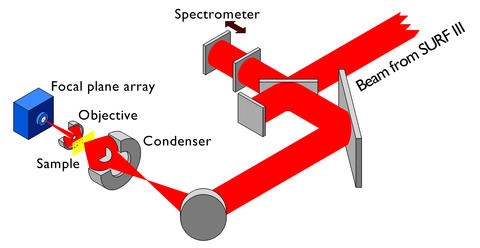 The new beamline 10, currently under construction, is intended for applications that make use of the super-thermal brightness from SURF in the near- to mid-infrared part of the spectrum (2.5 µm to 10 µm). Light from SURF is collected by a mirror pair and two source images are projected side-by-side by a custom designed beam combiner to create a virtual source with an area of approximately 3.5 mm x 3.5 mm. This source size is comparable to that of a thermal "globar" source. Calculations of the brightness of SURF suggest that the amount of light available at the virtual source will exceed that of a thermal source by a factor between 5 and 10, depending on the wavelength.
The end station of the beamline will be equipped with a state-of-the-art infrared Fourier transform spectrometer coupled to an infrared microscope. The microscope will use a Mercury-Cadmium-Telluride (MCT) focal plane array (FPA) image sensor to achieve diffraction limited spatial imaging resolution down to about 2 µm. The microscope will offer a range of configurations for measurements in transmission, reflection, attenuated total reflection (ATR), and grazing incidence.  The combination of modern focal plane array and the greater source brightness will significantly speed up microscopic, chemically specific data acquisition in thin, highly transmissive samples.
Application Areas
The capability for quantitative hyperspectral infrared microscopy at beamline 10 will open SURF to user communities that are currently underserved, with applications in
Materials science

Life sciences

Forensic sciences

Environmental science, geology, and mineralogy

Standards and reference materials for quantitative analytics
A schematic layout of the beamline 10 spectro-microscope for the transmission analysis of a sample is shown in the figure. Light from the beam combiner first enters a Fourier transform spectrometer and is then directed to the microscope containing a specially designed condenser to illuminate the sample. The sample is imaged on the focal plane array with diffraction limited resolution at 2 µm.