Raising the bar to increase adoption of trusted digital identity solutions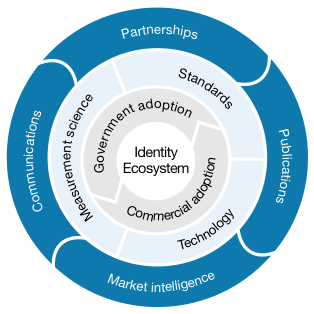 NIST's approach to digital identity focuses on achieving an environment in which individuals and organizations utilize secure, efficient, easy-to-use, and interoperable identity solutions to access online services in a manner that promotes confidence, privacy, choice, and innovation.
The drive toward this vision focuses on two high-level goals of government and commercial adoption through the advancement of foundational activities in standards, technology, and measurement science. To achieve these, NIST employs four primary tactics: partnerships, publications, market intelligence, and communications.
Identity Ecosystem Framework (IDEF)
Laying the foundation for a vibrant identity ecosystem
The Identity Ecosystem Framework (IDEF) is a set of core documents laying the groundwork for better digital identity transactions. Developed by the private-sector led Identity Ecosystem Steering Group (IDESG), version 1 of the IDEF represents three core documents that describe the Identity Ecosystem and the requirements, best practices, and approved standards needed to be considered in compliance with it. The IDEF serves as the foundation for the IDEF Registry, which enables businesses and organizations to identify trusted digital identity service providers and more easily adopt trusted identity solutions. For more information on the IDESG, the IDEF, and the IDEF Registry, visit the IDESG's website.
 Selected recent publications
Resources:
User perceptions in digital identity | more
Back to basics
The TIG is sharing primers on a variety of identity-related topics,  focusing on knowledge-sharing and public awareness. Please check back soon for more!
What's multi-factor authentication (MFA)? | more
Coffee Chat with Michael Kaiser, Executive Director, National Cyber Security Alliance | more
Six Small Cybersecurity Steps You Should Take. Today. | more