Cybersecurity Framework
Helping organizations to better understand and improve their management of cybersecurity risk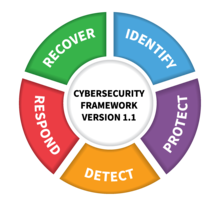 This voluntary Framework consists of standards, guidelines, and best practices to manage cybersecurity-related risk.  The Cybersecurity Framework's prioritized, flexible, and cost-effective approach helps to promote the protection and resilience of critical infrastructure and other sectors important to the economy and national security.
Latest Updates
Registration for the 2018 NIST Cybersecurity Risk Management Conference -- to be held November 7-9, 2018, at the Renaissance Baltimore Harborplace Hotel, in Baltimore, Maryland --is now open and speaker nominations are being accepted (submit to cyberframework@nist.gov).  Sponsored by NIST, the three-day conference is expected to attract leaders from industry, academia, and government at all levels, including international attendees.

Version 1.1 of the Framework was published on April 16, 2018. The document has evolved to be even more informative, useful, and inclusive for all kinds of organizations. Version 1.1 is fully compatible with Version 1.0 and remains flexible, voluntary, and cost-effective. Among other refinements and enhancements, the document provides a more comprehensive treatment of identity management and additional description of how to manage supply chain cybersecurity.  

The recorded version of the April 27th webcast is available.
To see more Latest Updates click here
Contact
For further information and/or questions about the Cybersecurity Framework