Cybersecurity Framework
Helping organizations to better understand and improve their management of cybersecurity risk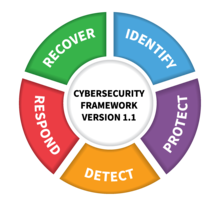 This voluntary Framework consists of standards, guidelines, and best practices to manage cybersecurity-related risk.  The Cybersecurity Framework's prioritized, flexible, and cost-effective approach helps to promote the protection and resilience of critical infrastructure and other sectors important to the economy and national security.
Latest Updates
With over 900 registrants and a packed agenda, the Cybersecurity Risk Management Conference in Baltimore, MD was a great success! If you haven't already, please let us know what you think about the conference through the participant survey and Guidebook ratings. Presentation slides will be made available in the coming weeks, stay tuned. 
New Success Stories demonstrate how several diverse organizations all leverage the Cybersecurity Framework differently to improve their cybersecurity risk management.  
The video recording of the "Next Up!" Webcast which focused on recent multi-sector work-products that exemplify best practices for cybersecurity risk management incorporating the Framework is now available. 
In just six months since its April 2018 release, V1.1 of the Cybersecurity Framework already has been downloaded over 205,000 times. That compares with approximately 262,000 total downloads of V1.0 over four years!
To see more Latest Updates click here
Contact
For further information and/or questions about the Cybersecurity Framework