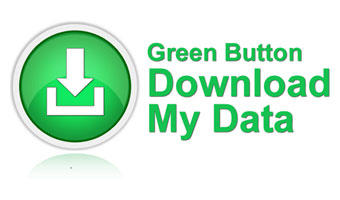 What is it?

Green Button is the common-sense idea that electricity customers should be able to securely download their own easy-to-understand energy usage information from their utility or electricity supplier. It is an industry-led effort that responds to a White House call-to-action: provide electricity customers with easy access to their energy usage data in a consumer-friendly and computer-friendly format via a "Green Button" on electric utilities' websites.

Armed with this energy usage information, consumers can use a growing array of new web and smartphone tools to make more informed energy decisions, optimize the size and cost-effectiveness of solar panels for their home, or verify that energy-efficiency retrofit investments are performing as promised.

Who is involved?

The Green Button initiative is designed to work with industry to support utilities and energy service providers where they are today, and also to lead the path forward towards more consumer engagement.  Initially launched in January 2012, utilities committed to provide Green Button capability to nearly 12 million households in 2012. As of July 2015, more than 150 utilities and service providers have committed to providing more than 60 million U.S. households (including altogether 100 million people) access to their own Green Button energy data in a consumer- and computer-friendly format.  Similar efforts are also taking hold internationally. In Canada, for example, more than half of Ontario-based consumers, totaling 3 million residences and businesses, now have access to their Green Button data.  Further information is available in this article from the White House blog, "Green Button Initiative Makes Headway with Electric Industry and Consumers."

How is NIST helping?

NIST provides leadership and support that has accelerated—and will continue to accelerate—the development and ongoing evolution of the technical standards that serve as the foundation for Green Button. Green Button is based on a common technical standard—ESPI (Energy Services Provider Interface)—developed in collaboration with the Smart Grid Interoperability Panel (SGIP) and its PAP10 working group. For more information, see "SGIP Plays Key Role in White House's Green Button Initiative." 

The standards development work is continuing, with SGIP's PAP20: "Green Button ESPI Evolution" now taking over the leadership and coordination role. Through PAP20, NIST and SGIP are working together with standards development organizations (such as NAESB, the North American Energy Standards Board) and industry groups (such as UCAIug OpenADE) to make revisions to the underlying ESPI and PAP10 standards, and to establish testing and certification to firm up the Green Button standardized XML (Extensible Markup Language) file format structure. In addition, these organizations will be working together to promote commonality of consumer experience for Green Button. 

"Green Button Download My Data" is one version of Green Button being implemented by utilities. In this version, the customer clicks the Green Button Download My Data icon on the secure utility website and downloads the XML file to their computer. Green Button can be used to provide whatever energy usage data a utility has available. For example, data could be hourly interval data (typically available a day afterward) or monthly data (available for a monthly billing period). 

"Green Button Connect My Data" provides another way to access energy usage data.  This powerful model allows a consumer to authorize a third-party service provider to receive direct access to their Green Button Data—no need for consumers to repeatedly login to their utility and download files. These authorizations are valid for an agreed-upon time and can be revoked at any time by the consumer.

Where can I learn more?
For more information about Green Button, here are some useful links: