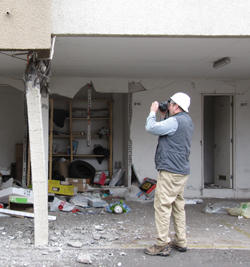 Data gathered during and after a disaster event, including photos, video and other documentation, may be lost or inaccessible relatively soon after. In 2011, NIST established the Disaster and Failure Studies Data Repository, (or Data Archive), which hosts a national archival database of significant hazard events. The repository helps ensure that this valuable information is organized and maintained to enable study, analysis, and comparison with subsequent severe disaster events.
The data archive was created in two phases:
Phase 1 includes data from NIST's six-year investigation of the collapses of three buildings at New York City's World Trade Center (WTC 1, 2 and 7) as a result of the terrorist attacks on Sept. 11, 2001. Available information includes thousands of photos and videos collected during the investigation; computer simulations created to model aircraft impact damage, fire spread and structural design characteristics; and the complete set of the technical reports that document the body of the NIST work.
Phase 2 includes a data archive of data collected from the 2010 Chile earthquake.
Once the data archive becomes operational, it will be expanded to include a larger collection of information on hazard events (earthquakes, hurricanes, tornadoes, windstorms, community-scale fires in the wildland-urban interface and storm surges) and man-made hazards (accidental, criminal or terrorist). This data archive effort will also support the development of standards and new technologies for more efficient collection of data on disaster and failure events.
Currently Available in the Repository:
2010 Chile Earthquake Data - THIS SITE IS CURRENTLY UNAVAILABLE DUE TO SERVER MAINTENANCE
---
Materials provided to NIST are shown in the repository as received and serve as an historical archive.  Some of these materials may contain offensive language or images/videos that some may find graphic. NIST is providing these materials as a public service and to comply with regulations that require federal agencies to provide equal access to data available for public release.    
Materials available in the repository may be protected by copyrights owned by private individuals or organizations, and may be subject to restrictions on use. Where known by NIST, the copyright owner is identified with the image.