(+$100 million)
Challenge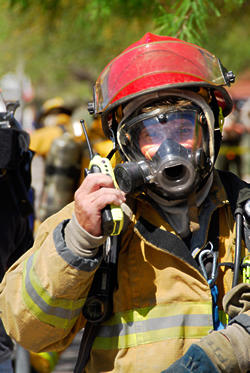 Today, nearly a decade after the Sept. 11, 2001, terrorist attacks and more than five years after the devastation inflicted by hurricanes Katrina and Rita, the United States still lacks a wireless interoperable network capable of linking public safety organizations and workers; public responders alone number about 4 million nationwide. The President's Wireless Innovation and Infrastructure Initiative (WI3) proposes to reallocate a total of 500 megahertz of federal agency and commercial spectrum bands over the next 10 years. The auctions of reallocated spectrum licenses are expected to raise more than $27 billion by 2021.  Part of this expected revenue will be invested to accomplish three important goals: expanding access to wireless broadband in rural America, building a broadband network for public safety, and spurring U.S. competitiveness by funding development of cutting-edge wireless technologies.
NIST's component of this initiative is the Public Safety Innovation Fund, which is proposed to receive $100 million annually through fiscal year 2016 under a mandatory appropriation.  In this proposed five-year effort, NIST will partner with industry and public safety organizations on research, development, and demonstration activities aimed at new standards, technologies, and applications that will advance public-safety communications.
The overriding objective is to build a broadband system to allow first responders and other public safety personnel anywhere in the nation to send and receive data, voice, and other communications to save lives, prevent casualties, and avert acts of terror.
The technological challenges that stand in the way are significant.  The public safety system that is envisioned must cover nearly 95 percent of the U.S. population and 90 percent of the nation's geographic area.  System availability should be 90 percent at the minimum, even under the worst of circumstances.  Besides stringent coverage and availability requirements, public safety considerations impose other demanding specifications that greatly exceed the requirements of the commercial market, including mission-critical voice services, enhanced security requirements, unique applications, and specialized testing needs. These requirements will be difficult to achieve and to maintain.  Current market forces are insufficient to drive the research and development efforts needed to accomplish the transformation in public safety communication technologies and capabilities.
Proposed NIST Program
The Public Safety Innovation Fund will enable NIST to:
Build upon and leverage critical synergies between the Department of Commerce's Public Safety Communications Research (PSCR) program, a partnership of the NIST Office of Law Enforcement Standards, the National Telecommunications and Information Administration's (NTIA) Institute for Telecommunication Sciences, and various other NIST laboratories based in Boulder, Colo. NIST and PSCR will further develop its strong relationships with public safety practitioners, agencies, and the Public Safety Broadband Licensee, which holds the license to the public safety spectrum. NIST will leverage its successful partnerships with the Departments of Homeland Security and Justice, the NTIA, and the Federal Communications Commission. NIST will also use its experience in research, development, testing, and evaluation of critical public safety communications technologies, including broadband.
Expand the work of the Department of Commerce's PSCR program, including:

Creating the 700MHz Public Safety Broadband Demonstration Network, which, initially, will give public safety practitioners access to information on how advanced communications technologies, such as video, mapping, and global positioning technologies, will perform  and, subsequently, serve as an education center, where first responders can run emergency scenarios and develop advanced public-safety-specific applications.
Helping to identify and incorporate public-safety requirements into national and international broadband standards for voice, data, image, and video communications.
Expected Impacts
Benefits and impacts expected to result from this newly proposed program and the collaborative efforts it will support include:
Eliminating critical technical barriers and compressing the timescale to deliver new cutting-edge public safety communications applications and capabilities based on scientific and technological advances.
Increasing the efficiency of U.S. innovation by leveraging private and public sector resources, improving productivity, and lowering transaction and adoption costs.
---