(+$20 million)
Problem/Challenge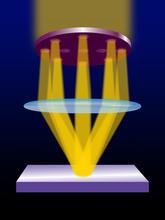 Within the next 10 years, experts expect at least half of the newly designed advanced materials and manufacturing processes to be products of nanotechnology. The global impact of nanotechnology is predicted to exceed $1 trillion by 2015. But before those predictions can become reality major barriers will need to be overcome. The commercial development of nanotechnology depends critically on the rapid development of innovative nanoscale manufacturing and measurement methods.
Proposed NIST Program
NIST has been selected as the lead agency for nanotech instrumentation, metrology, and standards research by the President's National Nanotechnology Initiative (NNI).
This initiative will fund a national research facility for developing and disseminating nanoscale technologies, and an R&D effort, utilizing the resources of both the facility and NIST's multidisciplinary labs to develop measurement science, standards, and technology for nanomanufacturing. The Center for Nanoscale Science and Technology (CNST) will exploit the world-class capabilities of NIST's Advanced Measurement Laboratory (AML) and its newly operational nanofabrication facility to provide opportunities for researchers from industry, academia, and other government agencies. The CNST will allow NIST and its partners to develop measurement and fabrication technologies to bridge the gap between nanoscience in the laboratory and nanotechnology in production.
The research initiative will expand NIST's research efforts to support industry and the CNST through nanoscale measurement science by:
developing reliable methods to detect nanoscale material, mechanical or electrical properties, and fabrication procedures for nanoscale devices needed by industry in areas such as nanoelectronics and biotechnology
calibrating those methods, changing "detection" into "measurement" by referencing chemical composition and electrical, magnetic, and optical properties to measurement standards, and
disseminating those calibrations to the "factory floor" by developing a strong infrastructure of standards, coordinated with international efforts, through reference materials, data, and calibration services.
Expected Impacts
NIST work in this area should help to:
strengthen U.S. innovation and competitiveness through the timely development and application of standards vital for nanomanufacturing;
speed private-sector commercialization of new products and innovations that integrate nanotechnology and nanomanufacturing;
increase yield and productivity in the manufacturing of nanostructures and devices; and
enable pace-setting new products through the use of nanotechnologies, such as more compact and powerful computers, magnetic storage systems, and communications devices.