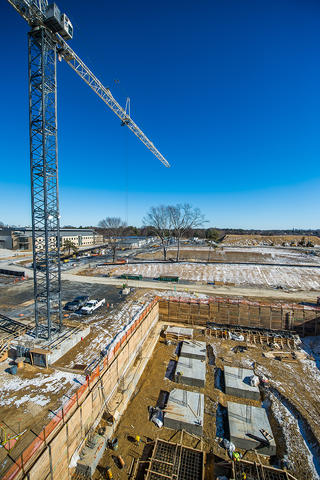 The NIST Construction of Research Facilities (CRF) appropriation funds NIST construction activities, including the maintenance, repair, improvements and major renovation of facilities occupied or used by NIST in Gaithersburg, Maryland; Boulder and Fort Collins, Colorado; and Kauai, Hawaii, to meet current and future measurement and research needs for the nation. 
Scientific work at NIST laboratories supports national priorities such as manufacturing, health care, physical infrastructure, information technology and many other areas. However, a growing lack of temperature, vibration and humidity control, and the air cleanliness required for world-leading research and measurement, limit NIST's ability to support 21st century innovation and competitiveness. 
Scientists and engineers working to push beyond the limits of today's advanced technology require stable environments. Variations in temperature cause sensitive optics to misalign; fluctuations in humidity interfere with sensitive measurements of light; and vibrations make reliable, sensitive spatial measurements impossible. When making the world's most precise measurements or creating quantum-based measurement tools that are only a handful of atoms wide, the tiniest variations in temperature, or vibrations from increased local traffic, or unreliable electrical current, can destroy months of work. 
The 50- to 60-year-old facilities cause a major productivity loss and prevent NIST from performing the most demanding measurement research needed by industry and the scientific community. Current laboratory conditions create significant inefficiencies, and the aging facility systems present safety concerns. In terms of lost productivity, many measurements can only be conducted sporadically when environmental conditions are stable, and significant experimental data and construction of nanoscale can be rendered worthless by poor laboratory conditions. The types of high-precision research and measurement the future requires will not be possible without wholesale facility upgrades.
"Maintaining and modernizing research infrastructure is critical to getting the best value out of R&D investments."
– FY 2019 Administration R&D Budget Priorities